here are some of the funny and crafty activities i made or purchased for the boys for our upcoming road trip out east to the maritimes. the ideas are universal and not at all unique, but as usual i was inspired by pinterest. here's a pretty extravagant activity board by one mama, which is beautiful, but way too elaborate for me. so i toned things down A LOT and made these two different activity boards.

felt peeps n' animals on a felt board
i took a piece of cardboard and just started hot glue-gunning the felt on. i cut the green into a hilly landscape and the blues into skies. i tried to be meticulous when gluing so that the kids wouldn't find a corner or loose felt to start picking at. i found some felt people from a thrift store, so i made them some summer clothes. 



then i headed to micheal's and found a ready-made felt board for only $4 (regularly $14-$20), so i bought one themed "under the sea". cute, eh?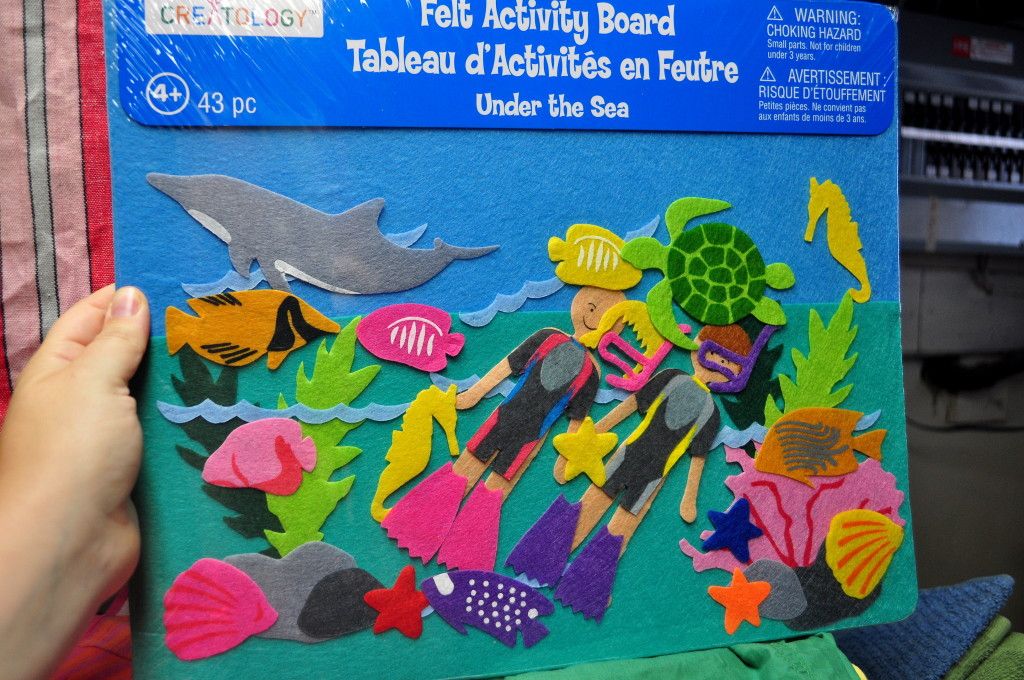 magnets & magnet board
i went to the dollar store and bought two small cookie sheets. then i bought a sheet magnet, fancy stickers and then headed home. 



dear hubby and i spent a couple episodes of "mad about you" sticking the stickers onto the magnet sheet and then carefully cutting them out. 



we also glued some wee dino's onto the magnet sheets to make some 3D magnets as well. i think they turned out really well!!! RRrrroarrRR!



dollar $tore junk
i am not a huge supporter of dollar store junk, but i have to admit for this road trip that place was kind of a toy haven. i don't want to pack precious sentimental toys, in case they get lost or destroyed on the trip, so i stocked up on funny, cheap crap instead. the kids are going to be so thrilled; anything new is always fun for a bit. i also bought some glow wands, which will be exciting at bedtime when it's dark.



i did also purchase some more wholesome activity books to round out the junk. i chose two kumon books for bear and some simple colour/ stickering books for lion. they both love their activity books, and bear especially will be kept busy by them for long periods of time.

now, it's time to go pack some more!

have you made any fun travel activities for your kids?