Welcome to the October 2012 Simplicity Parenting Carnival: Holidays
This post was written as part of the monthly Simplicity Parenting Carnival hosted by The Lone Home Ranger and S.A.H.M. i AM. This month we are discussing how we simplify the holiday season. Be sure to read to the end to see a list of the rest of the excellent carnival contributors.
***
i am already planning for christmas 2012. if you know me personally, i'm sure you're not surprised to hear that! yes, it is only october, but the holiday season is around the corner and i like to be as organized as possible! christmas is my favourite time of year. i get super excited, super psyched and super stressed. you can read all about the x-mas rage i experienced last season!

as my kids mature and start to feel and understand the excitement of the christmas season, i try to make a point of discussing the magic of things rather than the consumerism of things. 



i grew up in finland, and once december rolled around, kids were reminded of very sneaky "joulutontut" or christmas elves, who travel around spying on kids to see who is naughty and who is nice. the tontut are small little elves, who poke around corners and peek through windows to see what kids are up to, and will eventually report back to joulupukki or santa with a detailed report. as an adult, i have the skills to recognize the tontut and last holiday season i saw the tontut out of the corner of my eyes and told the kids; they believed. 
that's what christmas is about to us. the mystery and the magic.

each year the four of us love to get creative and make lots of gifts for people. one year i made big mason jars of soup. annually, we make a huge mess in the kitchen as we bake a large assortment of cookies, the kids make all sorts of art, we make our own x-mas cards (one year i drew each card by hand individually), we make wrapping paper and re-use gift wrap from years passed, and sometimes jazz up the old with potato stamps! there is a lot we do and in doing these things, we are kinder to mother-earth, gentler on our bank account, but most importantly we are teaching our kids an invaluable lesson : christmas is about giving, not about receiving. and specifically, it is about giving love, sharing love and being with family.






at four (almost five) i recognize that bear has inherited his mummo's desire to create various things as gifts. he is eager to make art, both abstract or something practical for people he loves. his wee bro lion, is also very artistic and eagerly follows whatever project bear has on the go.
this year, i have some projects ear-marked that i can't mention here, not yet anyway! there are some crafts that the boys and i will get to as we get closer to the giving season. we will make our annual batch of salt cookies, paint them and make garlands from them. we will re-make our christmas wreath on our door, make ice lanterns and maintain other finnish traditions. i will start playing festive music early and i am already collecting various items for the wall hanging advent calender i made the boys last christmas. bear is still talking about it!

sure, we talk about asking santa for things in our annual letter, but i always remind bear that just because he's asking, doesn't mean he's receiving it! yes, we will buy the children presents, but as in years past i will buy lots of things second hand or we will make things ourselves. yes, we will buy gifts for our family and friends, but again, with frugality and the environment in mind. so, honestly, this holiday season will not be a buy nothing x-mas, but it will one which will include more baking and more crafts!

ho! ho! ho!



***
Thanks for reading the Simplicity Parenting Blog Carnival! We hope you'll take time to read these other great contributors' posts: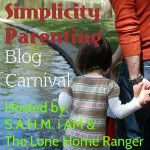 Thanks to all the fabulous writers and readers for being a part of our simplicity parenting community! Stop by The Lone Home Ranger and S.A.H.M. i AM to see how to join us for a future carnival.