we had some good friends over for dinner and i felt like making something super yummy for dinner. i wanted to make a meal that was colourful and light, so i made this wonderful butternut squash, beet and quinoa served as a warm salad.
it was amazing!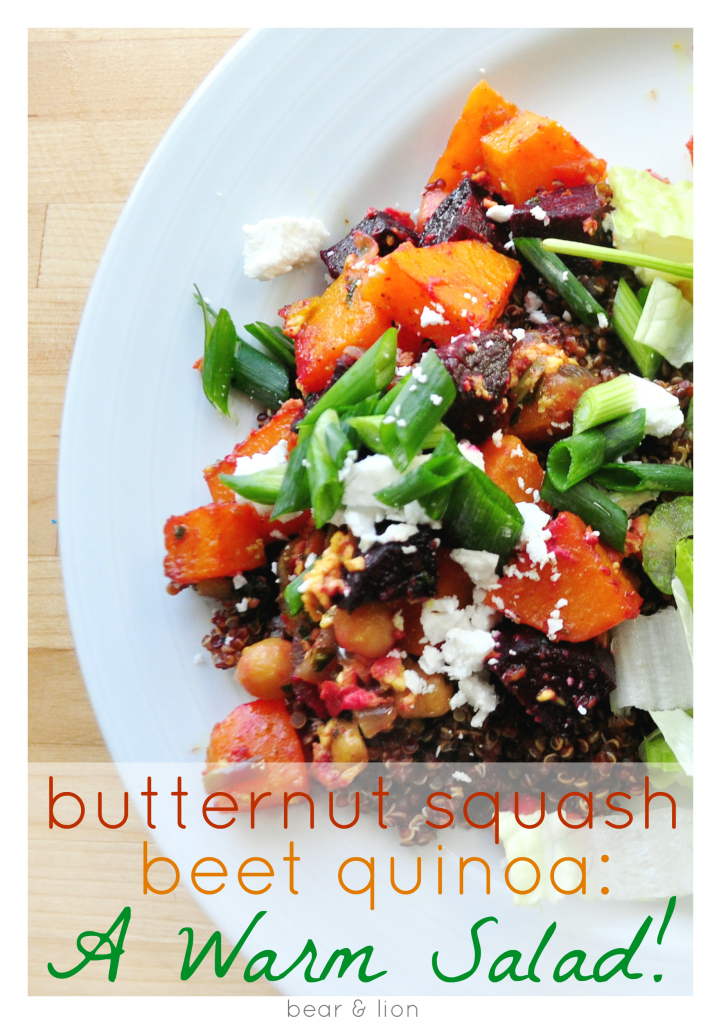 (serves 4-6)
INGREDIENTS:
1 butternut squash
7 whole beets
2 cups quinoa
1/2 red onion
1 cup chopped kale
1 can of chick peas
2 garlic finely chopped cloves
4-6 fresh green onions
1 tsp curry powder
1/2 tsp oregano
1/2 package of medium firm tofu (rooster brand)
1 cup feta cheese
olive oil
coarse sea salt
INSTRUCTIONS:
1. pre-heat your oven to 400F. peel and cut butternut squash and beets into bite sized cubes. place them separately onto either a cookie sheet or an oven safe dish, drizzle with olive oil and place in the hot over. let bake for 30-40 minutes, until tender. remember, baking times vary ovens.
2. cook quinoa according to directions on the box. for this recipe i used red quinoa, but any quinoa is fine.
3. in a skillet heat oil, sautee red onion until slightly browned, add finely chopped garlic and kale. sprinkle lightly with coarse sea salt. add chick peas, tofu, curry powder and oregano. continue stirring gently, ensuring the flavours are mixing nicely and the tofu has broken down into small pieces.
4. once butternut squash and beets have baked thoroughly and are nice n' tender, add them to your skillet. mix gently.
5. to serve place a bed of quinoa on a plate, add butternut squash, beets, sprinkle with fresh green onions and feta cheese. serve with a big fresh salad!
mmm… everyone loved this meal, including the kids! it is packed with delicious proteins, iron and all sorts of other healthy components.
it easy enough to make it vegan, by removing the feta cheese!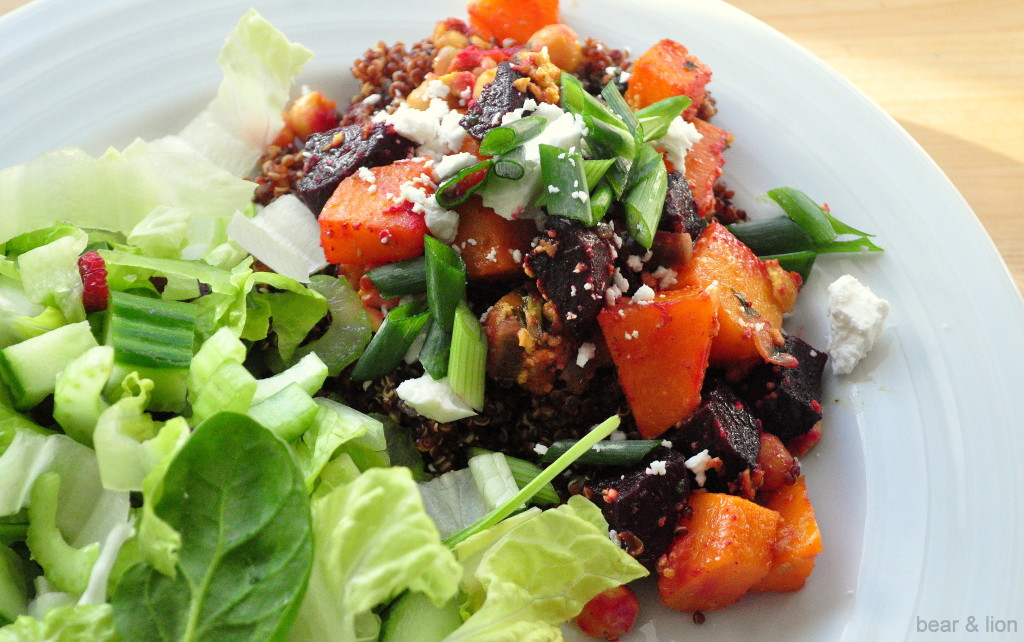 do you think your family would enjoy this?
let me know if you try it!