on friday i had an MRI done. it's an annual one that gets done to see whether or not the pituitary gland tumour that was removed almost four years ago has returned. pituitary gland tumours are typically cancer free, as was mine, and usually quite simple to remove. my situation had a catch though, as i was pregnant with lion when my tumour was diagnosed, so i was treated at a special hospital with fancy specialists and had a nightmare c-section. all because of this dang tumour.
in the brain tumour community cancer free tumours are not described as benign. all brain tumours reek havoc on the lives of people living with them and their families.
my annual check-ups for my tumour always fall right around lion's birthday, which makes this time of year especially emotional for me. this year i was trying to push away all of the scary memories and focus on all of the good that we are surrounded with. but, then on friday as my MRI time got closer, my anxiety started to increase, my throat got tight, and i felt completely alone in my memories and fears.  DH hadn't acknowledged anything before heading to work that morning, so 45 minutes prior to my appointment i texted him an angry message "today is not a normal day for me". and, maybe he was taking cues from me to be chill about the day,but regardless, i was hurt.
so, i arrived at the hospital, nervous as heck only to see DH sitting there in the waiting room. he squeezed me tightly, kissed my forehead and whispered sweet words into my ear . he left the hospital once i was checked-in as the kids were with various friends, so someone had to be available as our phones didn't work inside the hospital.
i sat in a horrible vinyl chair listening to a conversation between old  friends who had randomly crossed paths there at the MRI waiting room.  they shared stories of the heartbreaking medical ailments that had brought them there. as i sat there my throat was still tight and i was fiercely fighting back tears. i was remembering my family's own heartbreak on lion's birth day; a day when he entered this world in terrible stress to strangers taking him and whisking him away to the NICU. i was under a general anaesthetic for his birth, because there were concerns about my tumour literally exploding and killing me if i pushed him out during a vaginal birth, or if i had an epidural for a c-section like most women.  so i was out cold. because of this DH had to wait outside the operating room for the birth, so that meant our wee baby was born alone. lion had complications and was kept in the hospital for a week. all because of that dang tumour.
four years ago when we got home, i had a baby, toddler and a tumour to deal with. i have never wanted others to think i was looking for pity or attention; so instead of sharing my situation and asking for support i have been very internal about most of it. after my surgery in november 2010 to remove the tumour i was back home mothering within days without the necessary recovery times. i never asked anyone for help, because i didn't want to be seen as weak.  i was so tired, in terrible pain and overwhelmed, but i tried my best to hide all of that and just kept on trucking. part of it was  i also felt like a fraud; like our experience with my tumour wasn't bad enough to warrant attention or support.
so, back to friday when all of these memories brought with them deep waves of emotions that came rushing through me as they prepped me for the MRI. my IV was placed, painfully, my contrast liquid tubes set, the mask to trap my head during the MRI was locked into place and then with a push of a button they put me into this dark terrifying tube. if you've never had a MRI here's a link to what it sounds like… CLICK HERE.  i don't suggest listening to the whole thing, but i do recommend turning up your volume and jumping ahead every so often to see the range of horrible sounds and noises that machine makes! my MRI's last about 30 minutes. during those long  minutes in the machine on friday i cried. tears were gently streaming into my ears. i thought of my lovely boy; he exudes love and shine. he giggles easily and cares deeply for others. i thought about him when he was first born, how fragile he looked all wrapped in tubes that were attached to various beeping machines. i also thought of my bear, who in those early days of lion's life was shuffled around from one house to another, to the hospital all in a blur of confusion and fear. he was only two-and-a–half. and, i was also thinking of my sweet DH who in those months and days was trying so desperately to hold it all together. he never showed his fear to me, always trying to put on a brave face even if i did see right through it. he had been standing outside the room where his son almost died watching the red lights flash in the hallway, listening to the alarms and then seeing the staff intubate him and rush him away. how completely terrifying. luckily today lion is healthy,vivacious and read to roll!
after i was done on friday, i got changed and walked to my car. drove home and didn't want to see anyone. i sat on my couch and cried. i sobbed. my body shook as huge tears rolled down my face. i had to let it all out before the kids came home with DH. when they walked in the door they held a beautiful bouquet of flowers for me.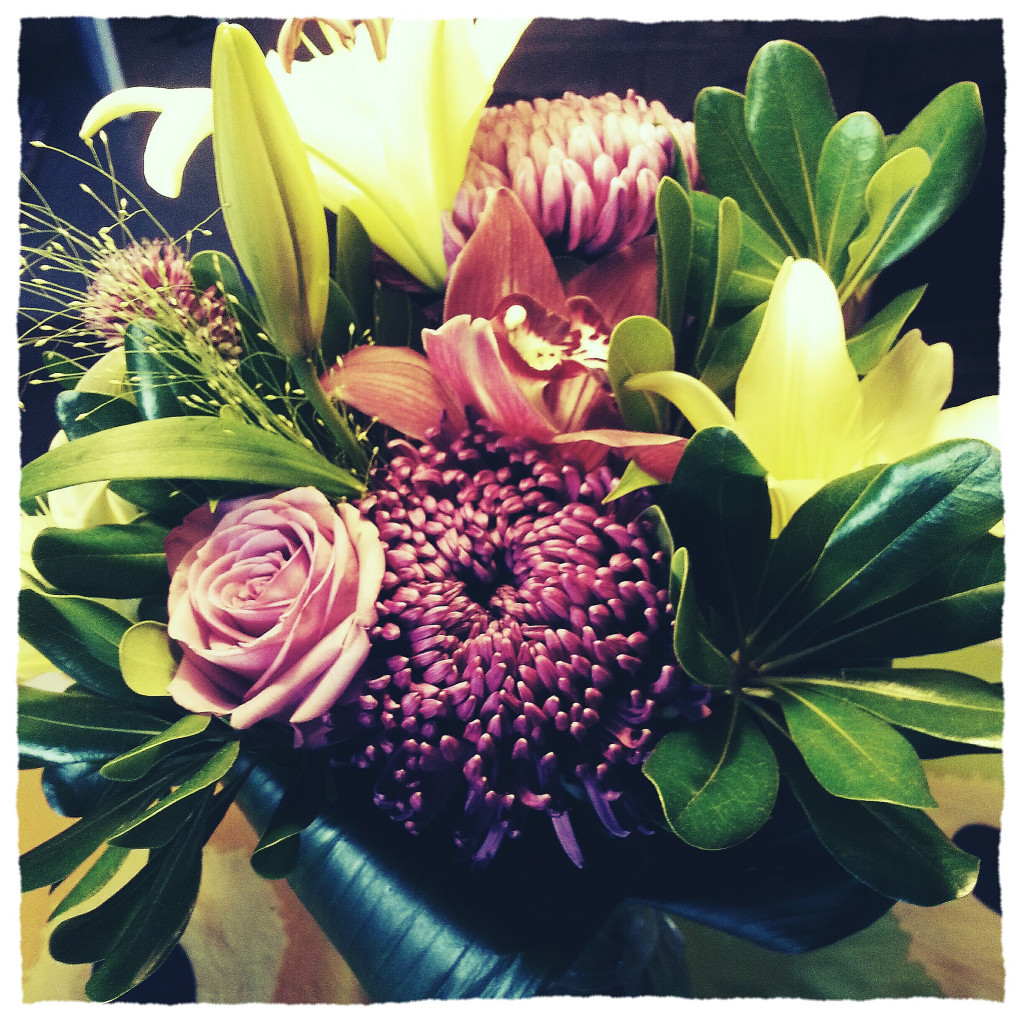 sharing my story here is a form of therapy for me. i think of my blog as a journal where i record our favourite recipes, craft projects, summer camping trips and also some of the not-so-fun or glamorous health experiences. i hope that talking openly about my dang tumour will open the doors for other's to share their struggles, even if they are not medical.
fingers crossed for wednesday! that is when i head into the big city to see my neurologist and endocrinologist toreceive the results of this emotional MRI and blood work done a few weeks ago.