a few weeks back i blogged about my sad MRI friday, the worry that i carry before getting my results and the general anxiety surrounding my previous tumour…  read more HERE. well, i got my result mid-july.
on july 16th i took the bus into the big city where i met my mum as soon as i got off the bus. we had some time spare before my big annual appointment at the hospital, so we decided to meander our way there. we strolled along dundas street, weaving through the crowds. on my mum's suggestion we popped in a some of the small galleries across from the AGO. aaah, we saw some beautiful, breathtaking art. art that makes you stop and really look at the details and soak them in. my mum is an artist and listening to her analyse the art was awesome; her attention for detail, eye for colour and knowledge of art was super educational to me.
then we contunied walking along dundas street heading west, through china town and the construction there, up into kensington market. i took a picture of courage my love, a store i visited regularly as a youngster growing up in toronto. i used to head down there on the spadina bus!!! remember those ol' things?! in kensington i strolled through memory lane floored that so many of the stores are still there from 20 years ago!!!
we stopped in a tiny cafe for a snack. i was a nervous wreck and couldn't really eat.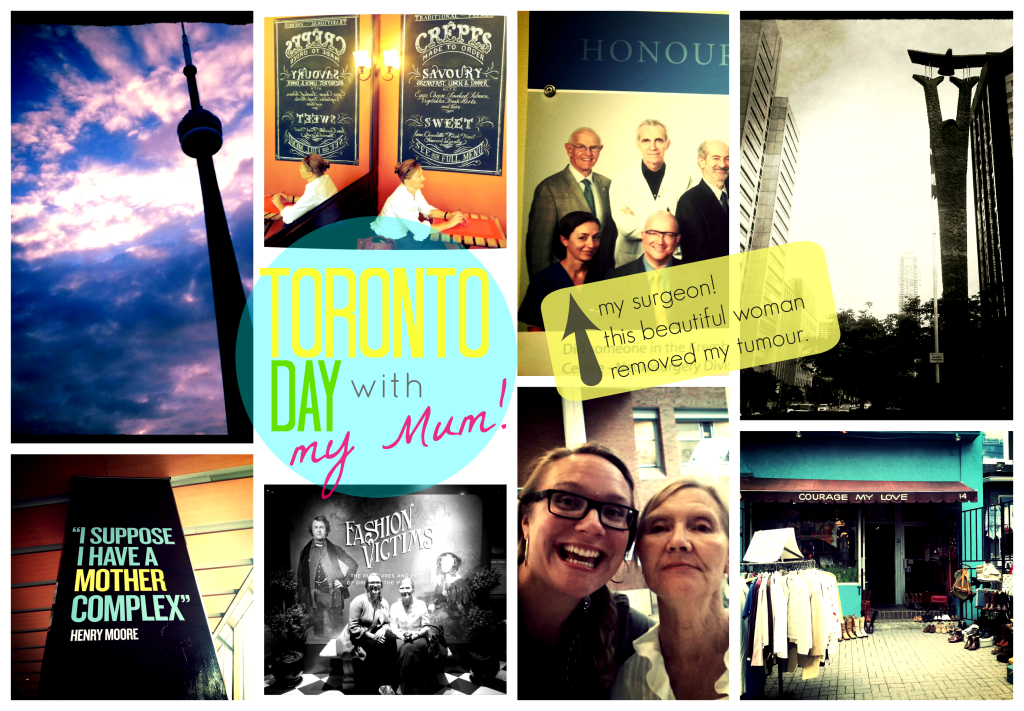 1:30pm was my appointment time. once a month the neurology department holds a pituitary clinic, so people with specifically pituitary issues comes for follow ups then. they also have an aneurysm clinic monthly. so n that clinic day  i looked around the waiting room and noticed that everyone is of a very specific generation, they all looked like baby-boomers. there was nobody else like me there.
at 2:30pm we were called in for my appointment. my poor mum came in with me, because i had asked he to, but i'm sure she was just as terrified as me!  we walked into a room with a large table with various people sitting around it,doctors and med students. first my endocrinologist (hormone doctor) said my blood work came in clear and normal, which was a HUGE relief. she asked a few questions about my weight and my periods, finishing that she had zero concerns! woohoo! then it was time for my neurologist to look at my MRI images which they display on a  huge screen for everyone to see. she said calmly that everything looked great, no sign of any re-growth or tumour. she asked about the kids and if i was going to have more kids. she finished the appoitnment by saying she though i looked wonderful! phew! as my mum and i walked out of the office, i threw my arm around her and did a small jig grinning hugely, with tears in my eyes, no tumour, i am healthy and good to go!
after that my mum and i both had more pep in our step as we headed north along bathurst to bloor street.  our shoulders had dropped and smiles were on our faces; the honest kind that come from your eyes and your heart,not just your mouth. finally at spadina and bloor we found a lovely crepe cafe with an authentic french atmosphere. we sipped real espresso and ate delicious savoury crepes.  just as we finished and were ready to head to the bata show musuem it started to pour! so we tucked under a tiny umbrella, walking arm-in-arm trying to avoid the huge growing puddles! at the museum there was an exhibit called "fashion victims" about the history of the dangers of textiles. it was a small exhibit, but wonderfully curated loaded with interesting information and detail.
because it was wednesday and i was in the mood to celebrate, we heded back down to dundas street via the U of T campus. the rain had stopped and the streets were packed with young people rushing around. the air was fresh. at the AGO wednesdays after 6pm are free admission, since it was only about 5pm we first had a celebratory glass of wine. the exhibit we were going to see was henry moore's sculptures and francis bacon's paintings. again, my mum's knowledge of art cameflowing out as she told all about the artists and their art. the special exhibit turned out NOT to be free, but the rest of the gallery was.
my bus was leaving toronto at 8pm, so slowly we made our way in that direction. we had walked a wonderful loop inside the core of the city that was once my home. i felt energized after a day without the kids, relieved about my health and reconnected to my mum. as the bus rolled out of the city heading down to the highway, i felt very nostalgic; i have memories from so many intersections and corners of this city with all sorts of people.
but, i was ready to go.
to go home.