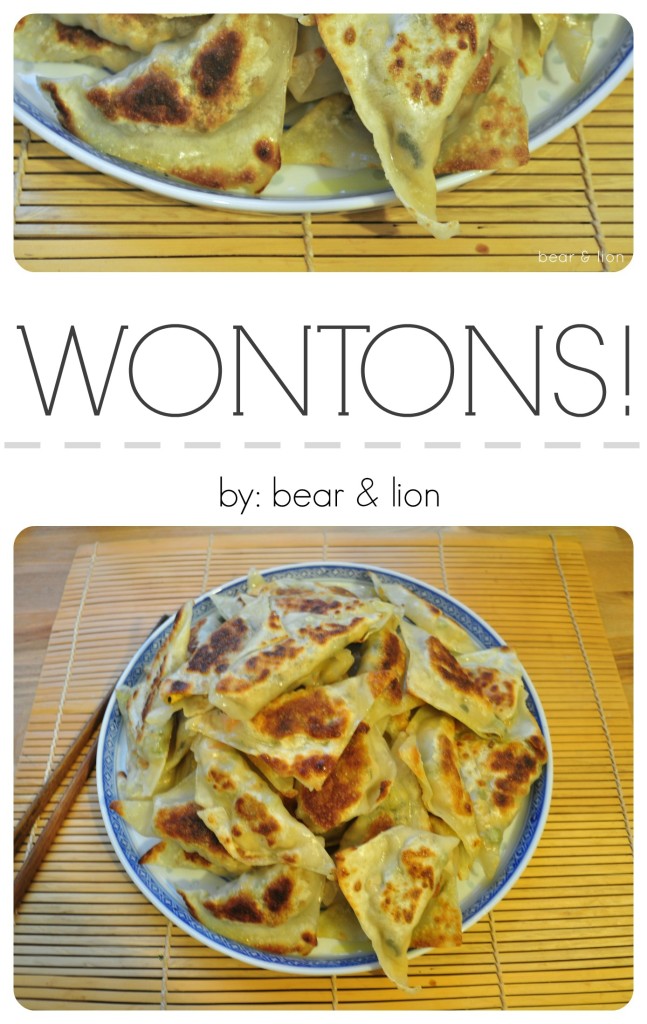 after all the sweet and heavy foods of the christmas holidays, my taste buds have been craving all kinds of other flavours and textures. so, after surviving the the saturday after new years at the grocery store, i decided to spend two hours on the kitchen preparing food for my family. i'm not a great cook, but i do love it!
i was a little apprehensive about how my boys would respond to the wontons as recently my eldest, bear, has become quite.. um, opinionated about his food preferances. but, so my delight and surprise he loved them and both kids asked me to send them in their school lunches. (mama SCORE!)
here i am sharing what i included inside my wontons, but i think really you could stuff them with anything.
INGREDIENTS:
1 yellow onion finely chopped
1 block firm tofu crumbled
1 cup frozen peas
1 small carrot finely chopped
3-5 kale leaves finely chopped
sea salt
to taste curry powder
to taste cumin
fresh ground pepper
1 package of wonton wraps
small bowl of water
DIRECTIONS:
1. sautee all of the above ingredients until nice caramalized.
2. take a wonton wrap in one hand, fill it with about a table spoonful of your filling. wet your index finger in the water bowl, then follow the edges of your wonton wrap. you may need to wet your finger several times to ensure the all of the edges are wet with water. the water will act as glue.
3. when it is all wet, fold the wonton wrap over creating a triangle. place on a hot frying pan with olive oil. keep flipping and pushing the wontons around in the pan to ensure that they don't stick or burn. i find a hot pan work best, but i suppose it depends on what kind of pan you are using.
4. i served the wontons with sweet and sour sauce, which the kids loved!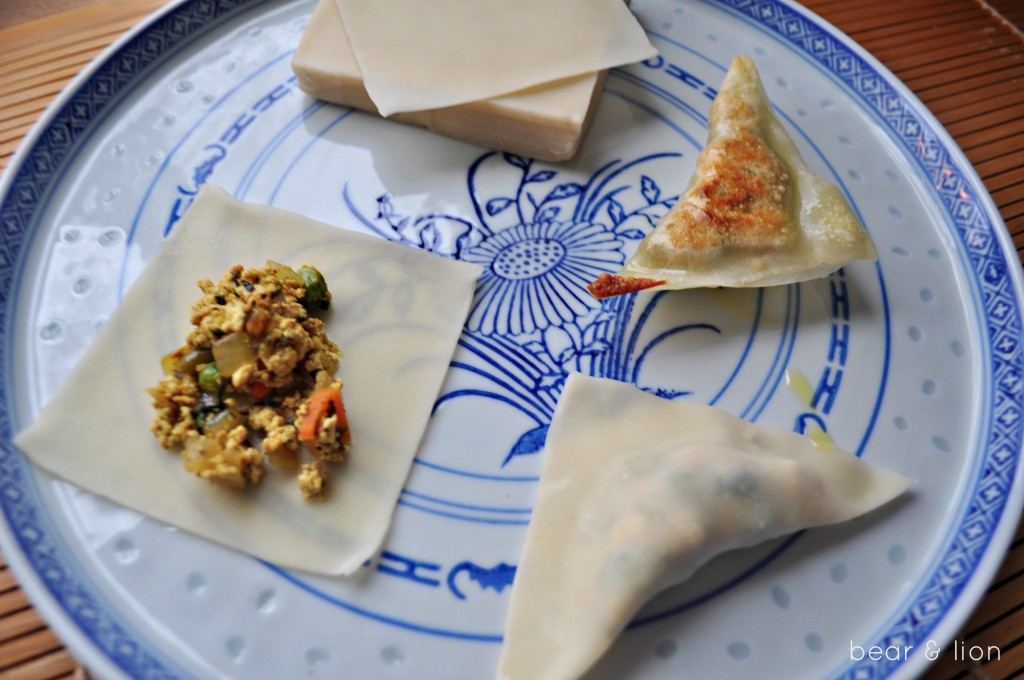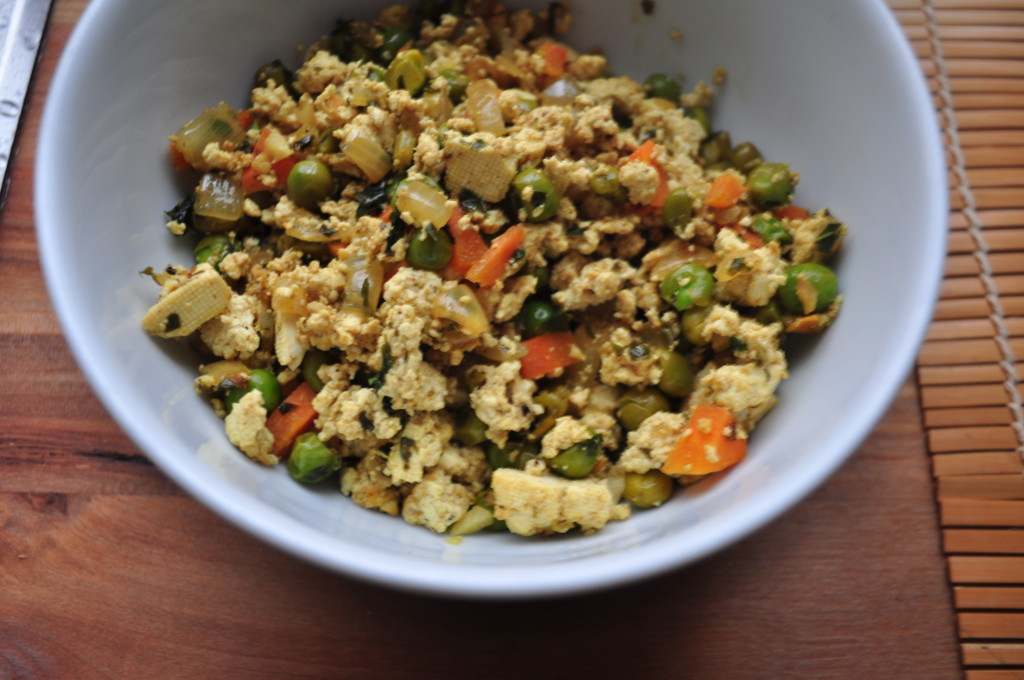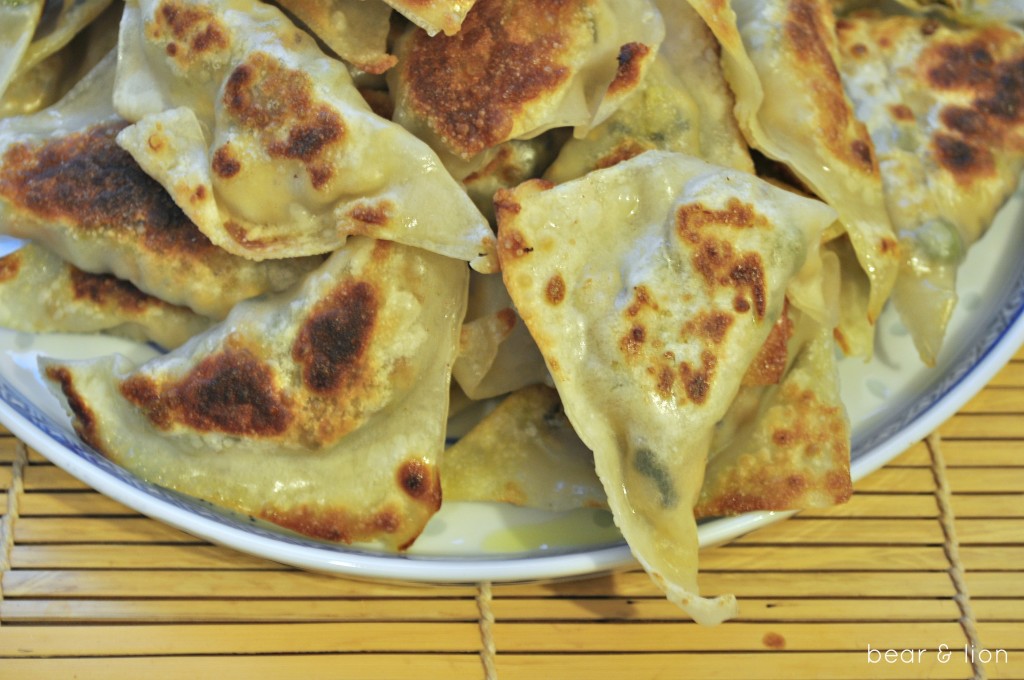 so, what do you think, easy enough to do? totally!
next time i'm going to commit more time and make more so i can freeze them!