we went on an absolutely magnificent family vacation to costa rica in october. If you're doing the same soon, check out Costa Rica Tours here https://www.buenavistadelrincon.com/guanacaste-costa-rica-excursions-and-tours/.
it was a long time in the making, we had been talking about a vacation for a while, but life just seemed to get in the way. Before planning a trip out here, we had always looked into shipping containers for sale in los angeles, as we have a few family and friends out here who we tend to send things to. This was the only way we could think to do it. But now that we are here, we can give them their gifts in person!
I was a little concerned about crime in costa rica but I did my research and realised it was nothing to worry about. DH changed jobs several times in the last couple of years, we sold and bought a house; big things that make vacationing a little tricky!
> WARNING : this blog post contains millions of family vacation photo's <<<
waiting before the sun had even risen for our flight at the airport.
not much to do or look at as shops and cafes were just opening up. i did enjoy a tiny cappuccino for $5! yikes!
the view from our room! not bad at all!
looking at this scenery each day helped calm our everyday nerves, recharge our batteries and helped us really enjoy each other's company.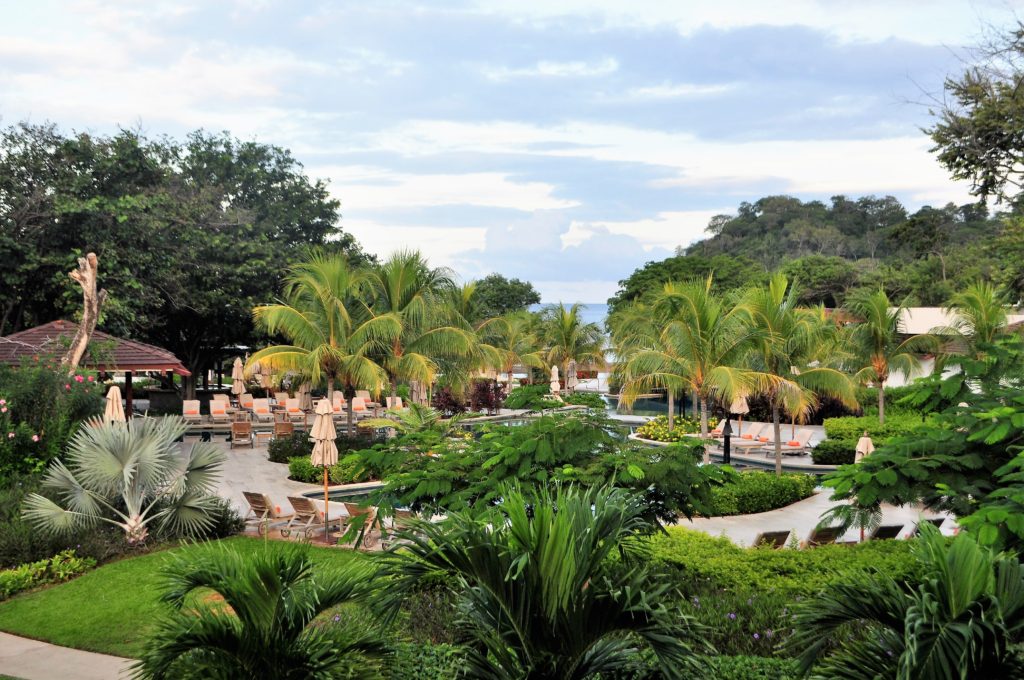 but, this october we finally hopped on a plane, flew south to the HOT and HUMID lush land of sloths and volcanoes! we stayed at a beautiful all-inclusive resort called dreams las mareas. we have never stayed at one before so we had nothing to compare the experience to, but regardless… it was AMAZING!! we had the best family vacation ever and we all thoroughly enjoyed ourselves.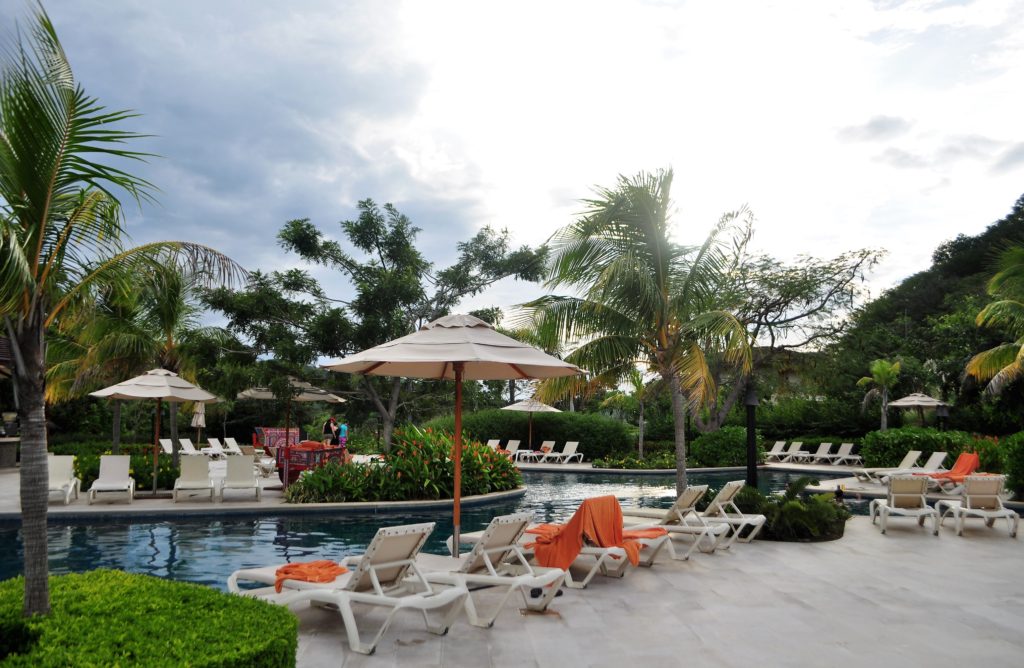 our room was big and bright, with an amazing balcony with a hot tub! we never used the tub, except to dry our wet bathing suits on it! every afternoon after spending the morning on the beach and poolside we would have a siesta during the heat of the day. and, boy-o-boy was it hot!!!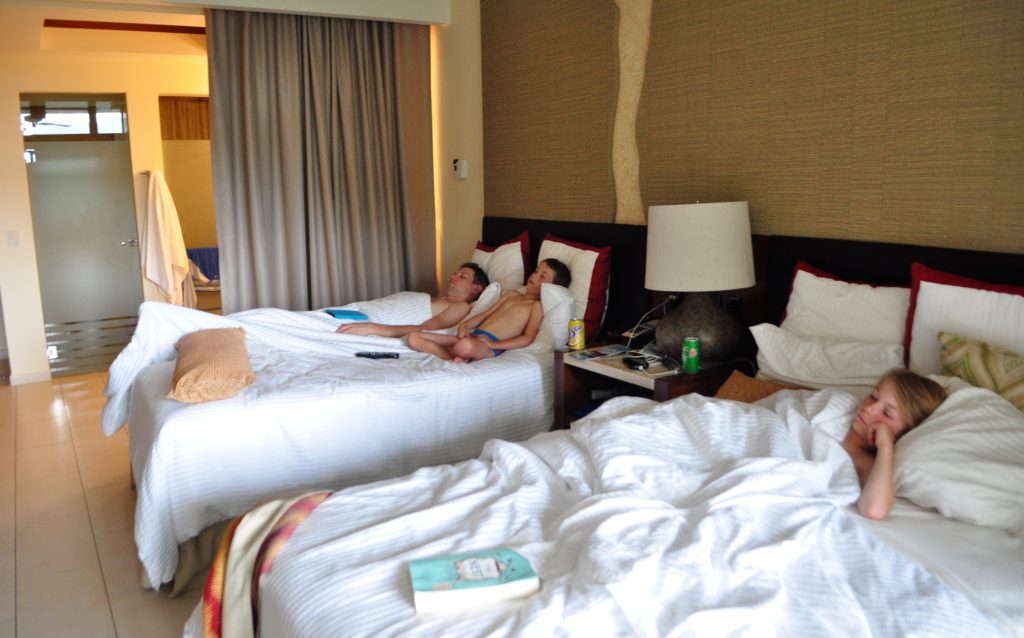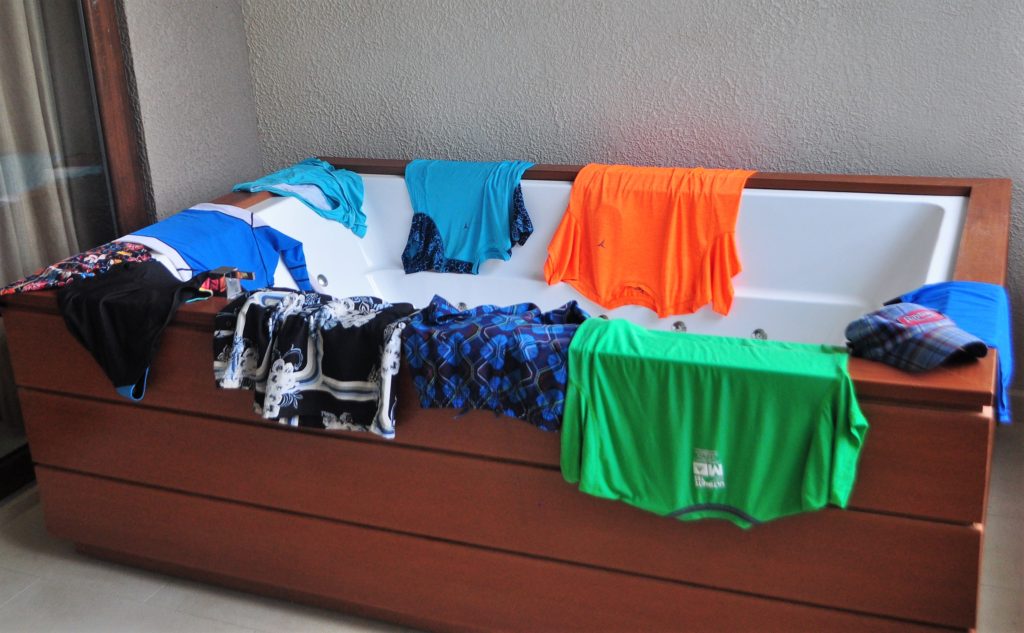 the resort had a lovely beach on the pacific ocean.
we would head down daily after our delicious breakfast, with towels and books under our arms. at 10am bar service started and the lovely waiters would bring us all sorts of drinks to the beach!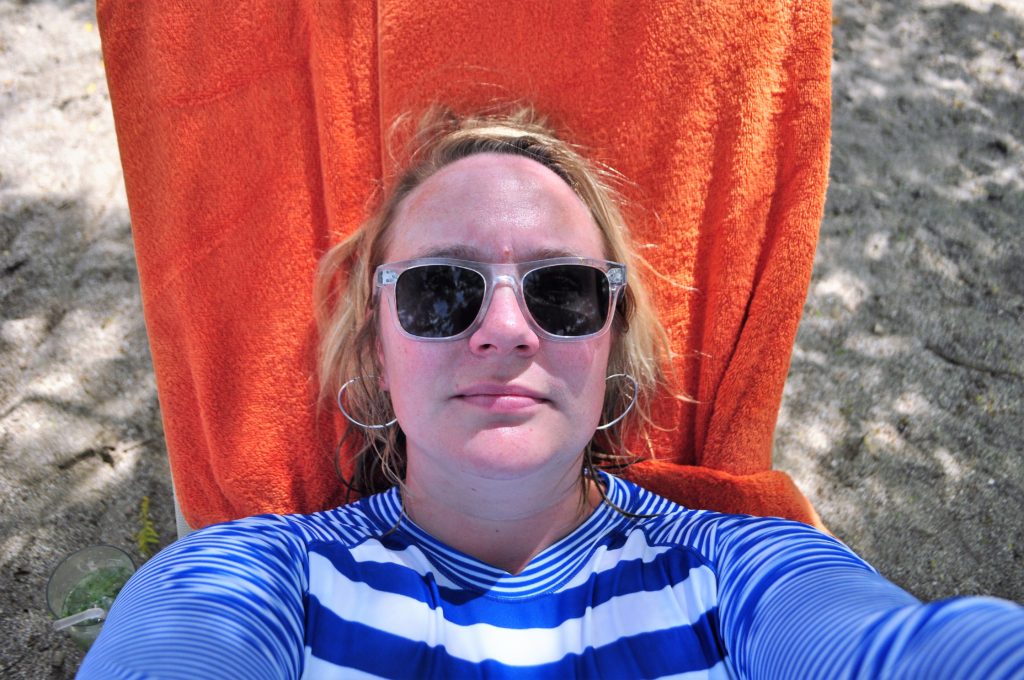 there were dogs at the beach. they were super social wanting to lounge with you. often they would crawl under various people's chairs to hide from the sun and rest in the cool sand. they never barked, were threatening, begged for food… they just chilled with the tourists!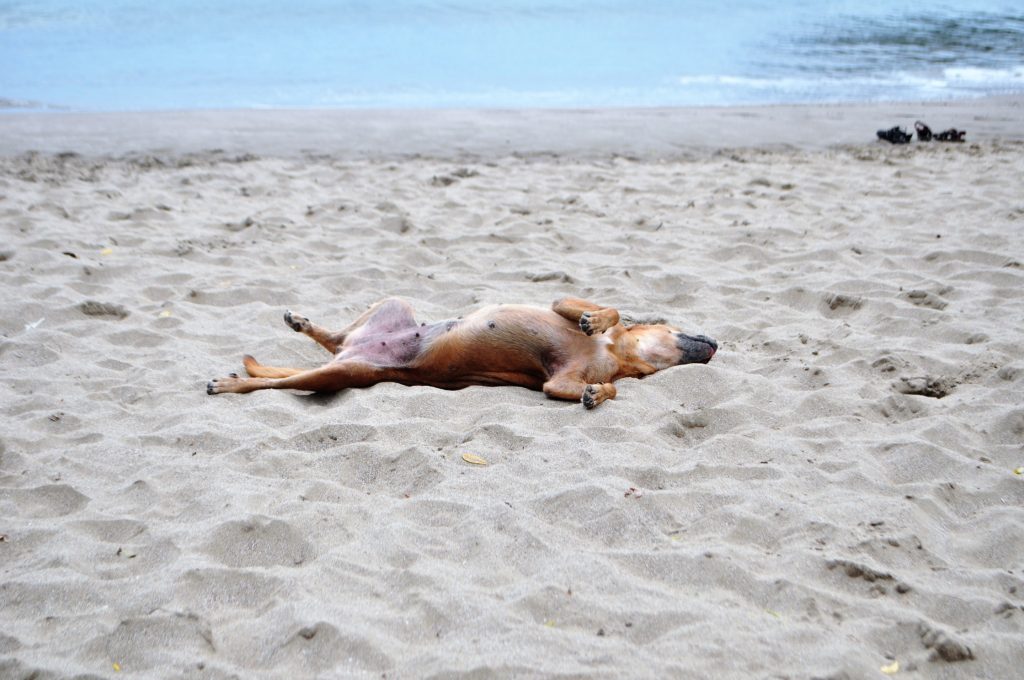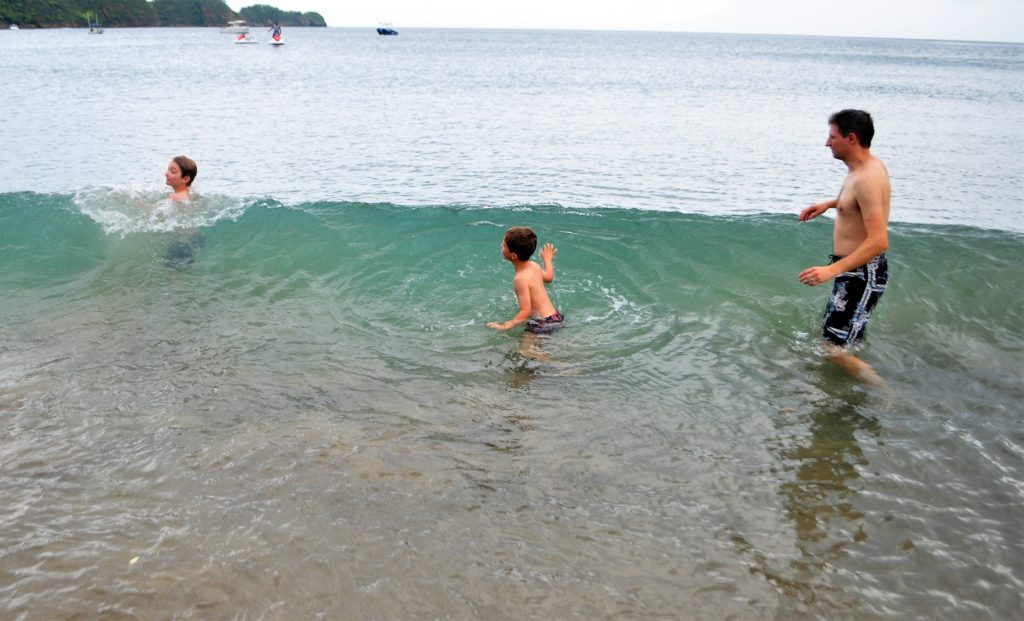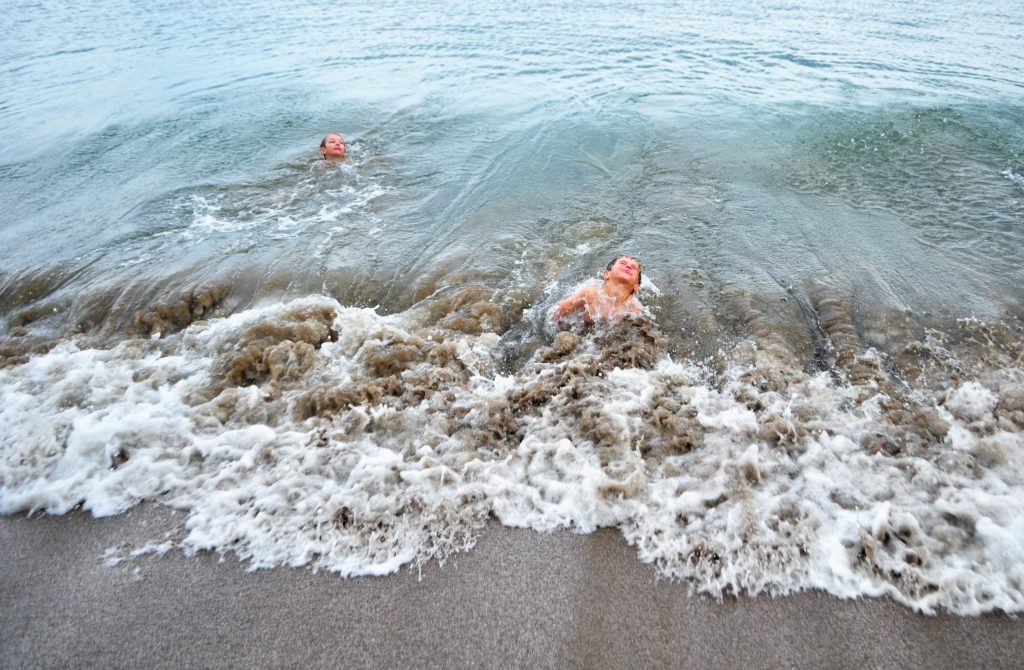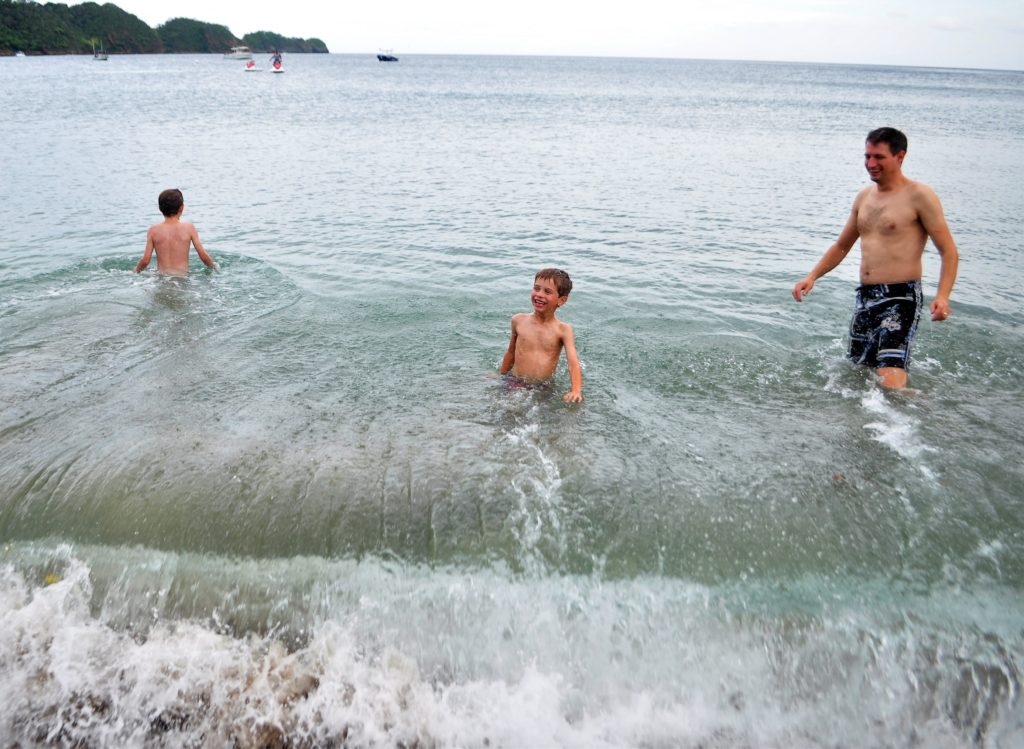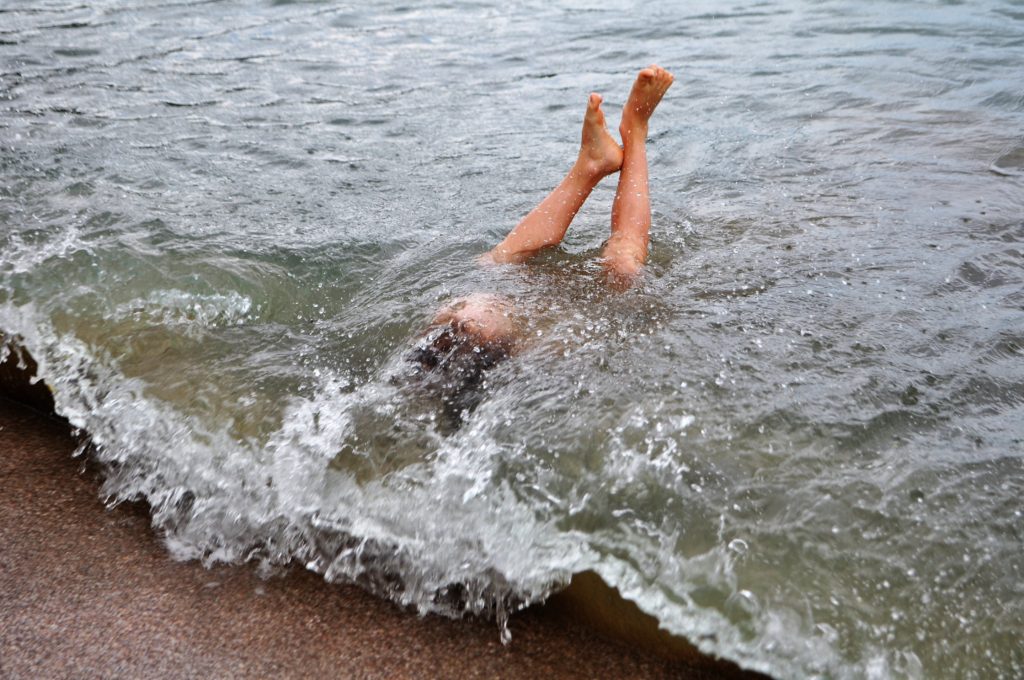 the waves were big, strong and fun! the boys would jump into the waves for hours and hours. there were little fish all along the shallow shores and massive grey pelicans would dive-bomb into the water to catch them. it was impossible to get a picture of this, but it was wonderfully entertaining to watch.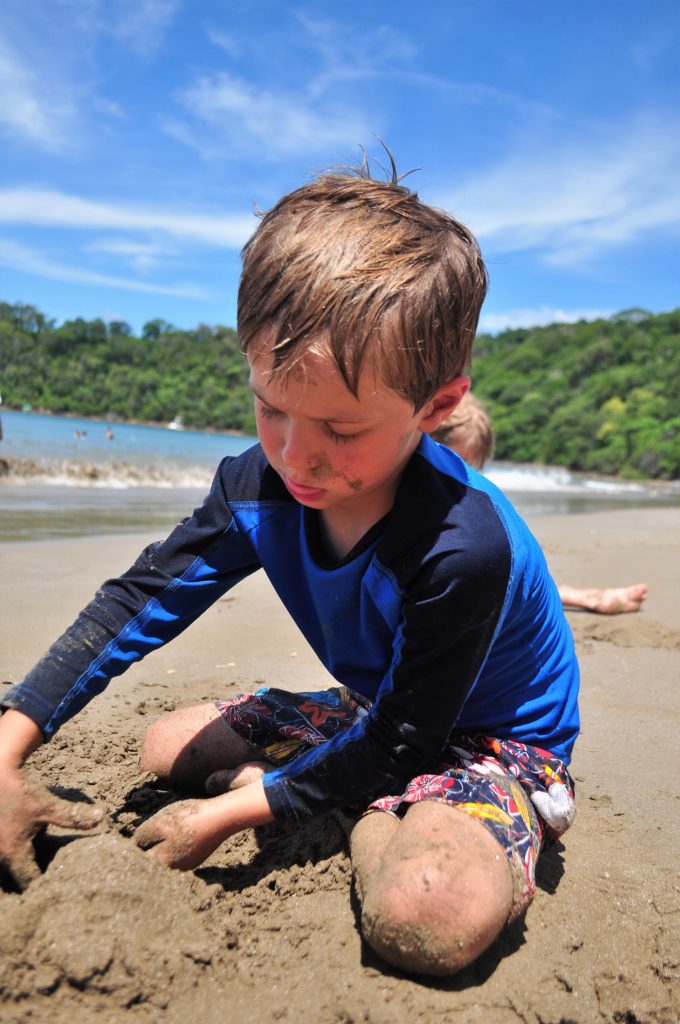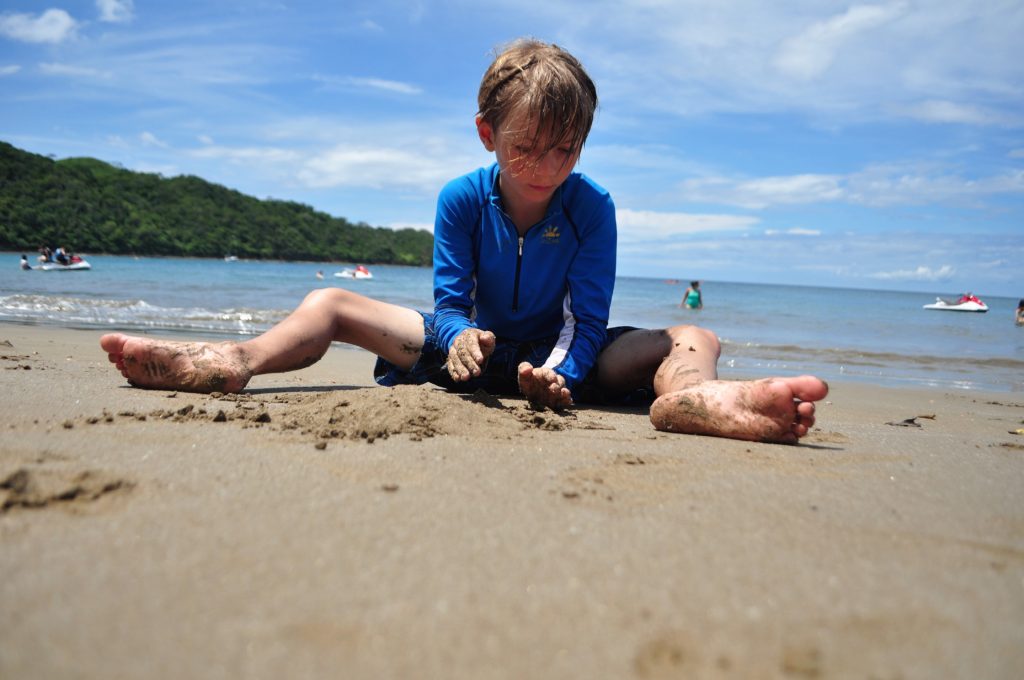 did i mention how beautiful and lovely our resort was!?
it was designed in a way with lots of lush greenery to create an intimate feel, separating various pools and restaurants. it was so easy to relax as we had nothing to worry about. our biggest concerns were when and where to eat!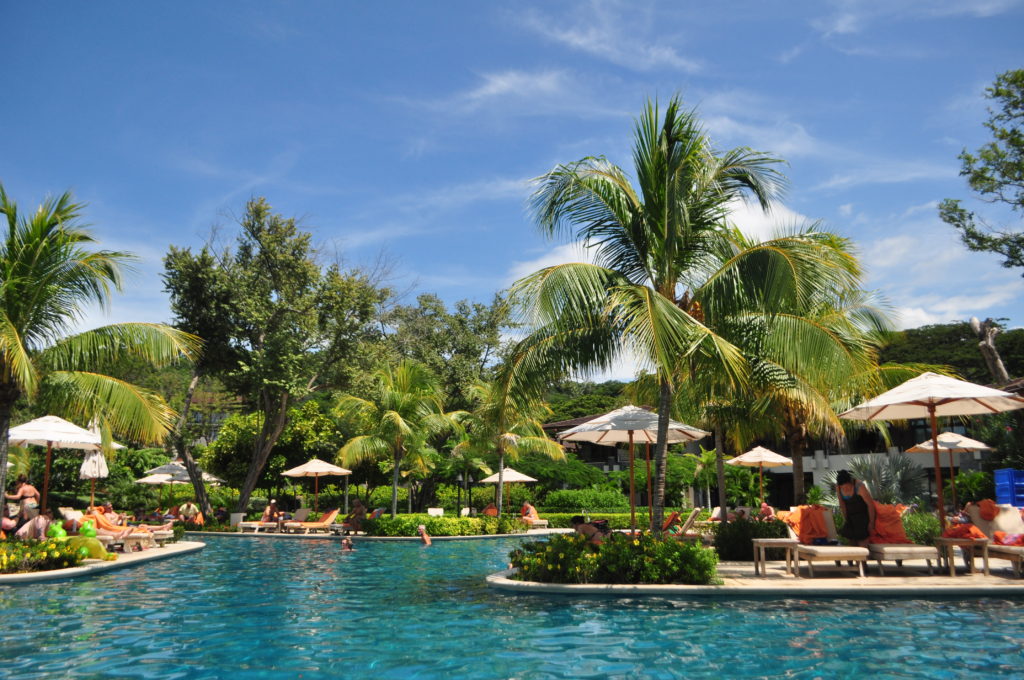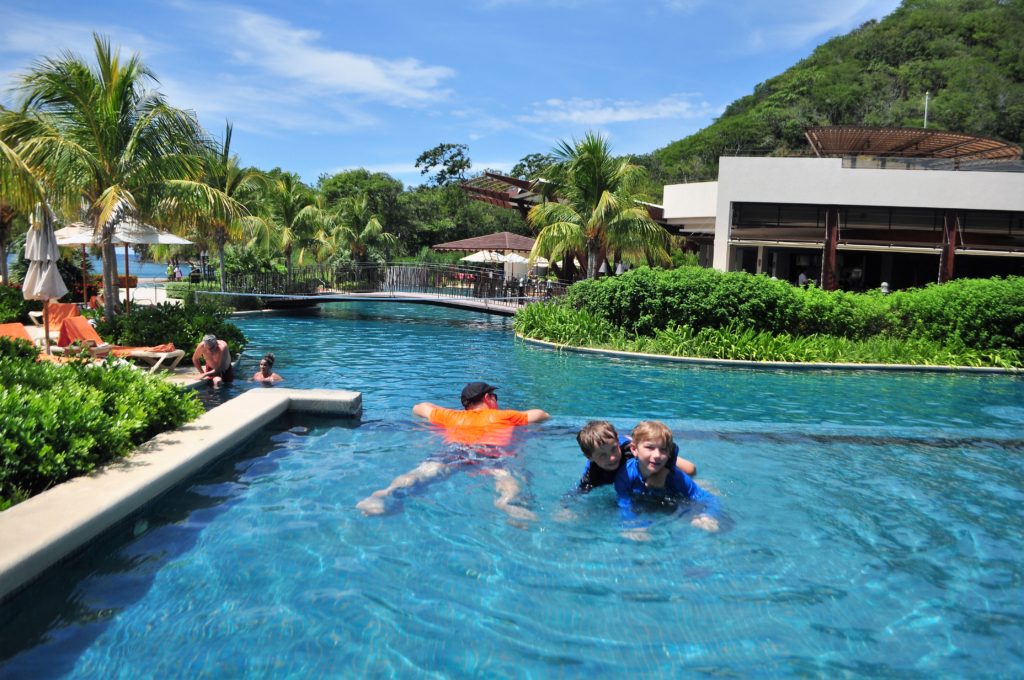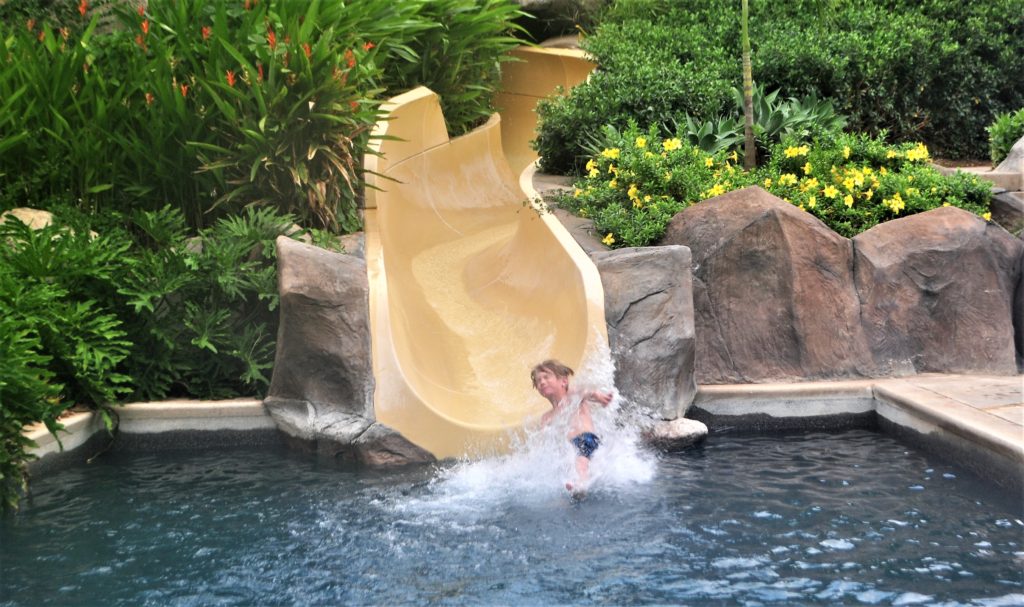 and the plants. the flowers. the trees. the foliage.
i couldn't stop admiring it all. they were planted in a way to break-up sight lines, so it was easy to forget you were at a resort.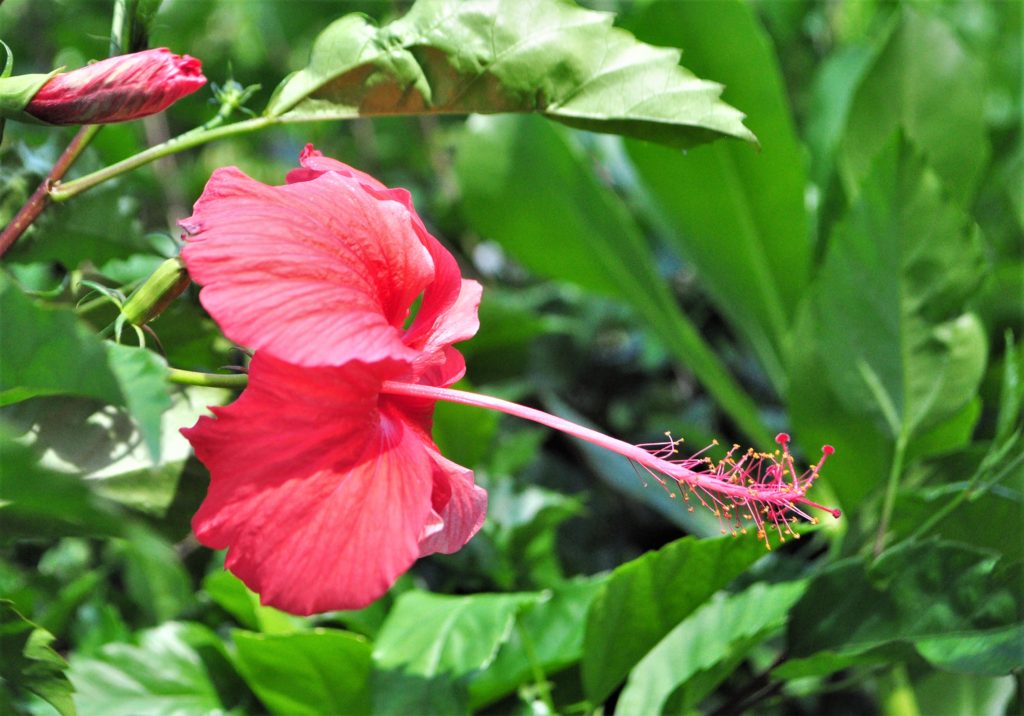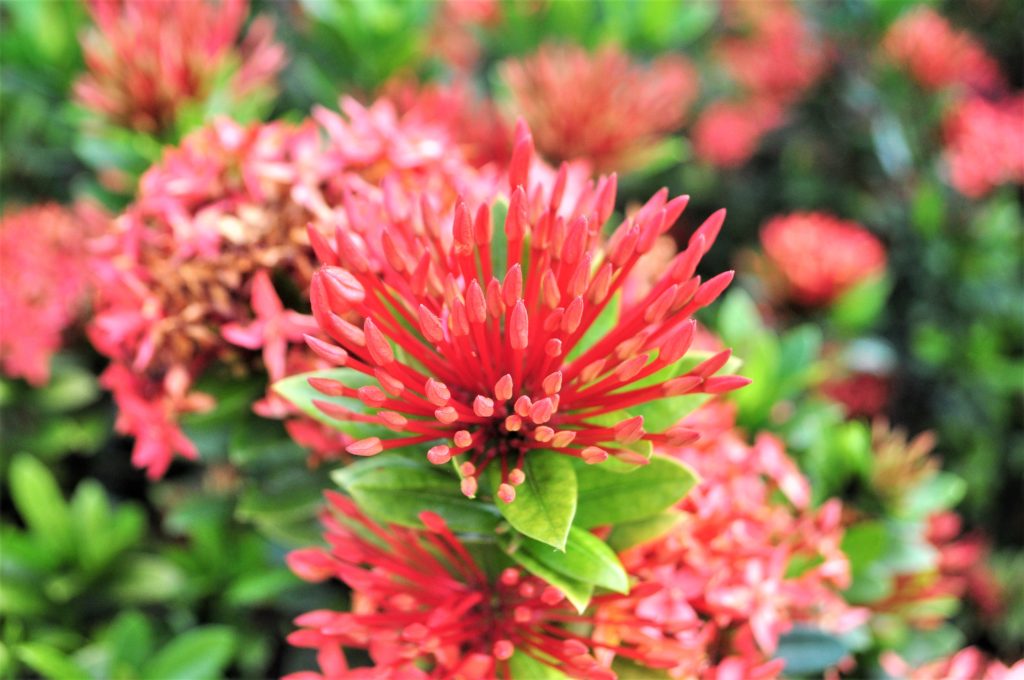 this was one of the outdoor seafood restaurants we enjoyed for lunch. it's hard to tell from the photo, but we were all dripping in sweat, kids included. but, it was fun to sit outside with the birds and lizards eating our yummy food. DH and i enjoyed all sorts of fancy alcoholic drinks, below i am devouring a strawberry daiquiri!
did i mention the beautiful fauna in costa rica?
we went on one day trip. it was one of the funnest days we have ever had. the four of us were joined by two newly-wed couples who had just married 4 days before!!! it was so great listening their stories of their wedding days, how they had met, their future plans and so on. it gave me much clarity and reassurance on how far my sweet DH and i have come in our ten years of marriage.
our day trip included zip lining!
the kids were the first ones to go! lion went with a guide as he is so tiny still, but bear went on his own.
fearless, i tell you, fearless!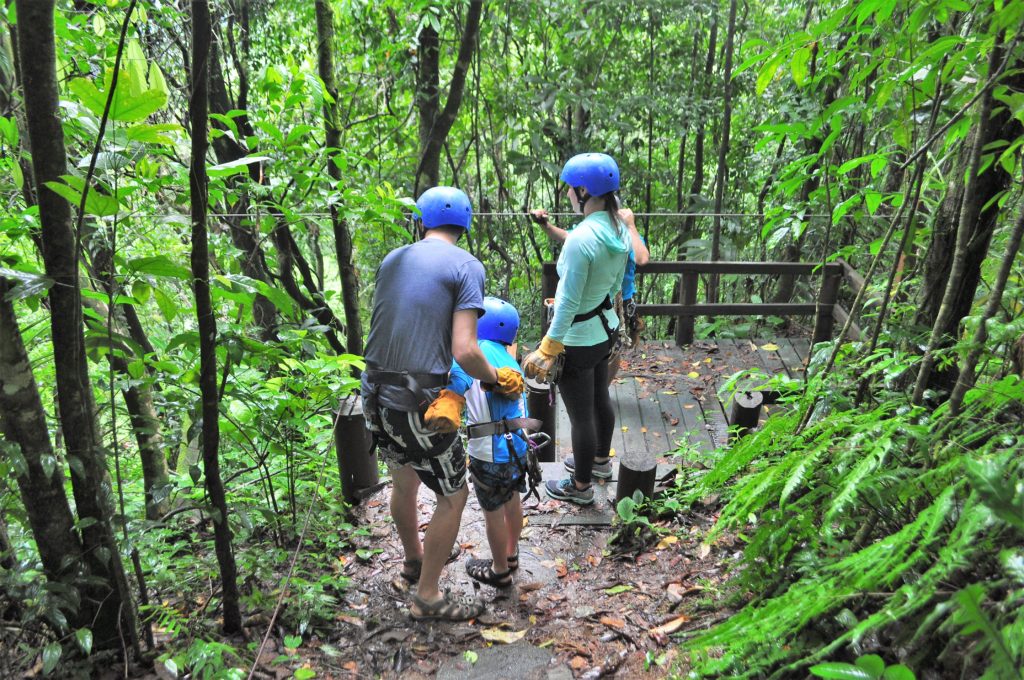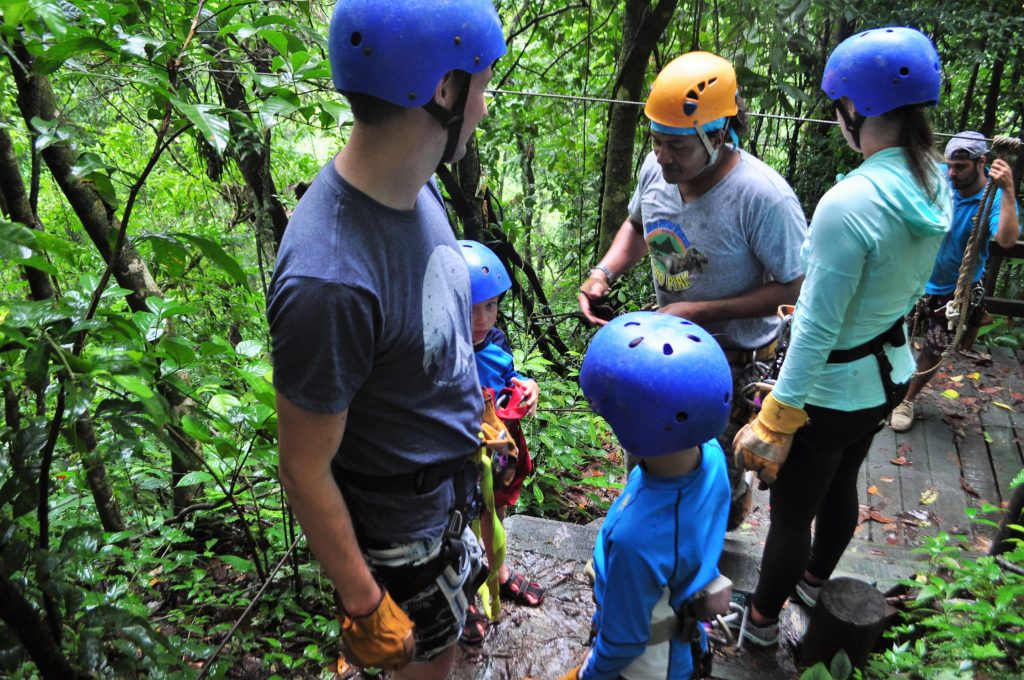 it was super hard to take videos and pictures while ziplining! in fact i was the only one brave (stupid) enough to bring my camera and phone with me. because, i didn't drop anything i am so glad i did!
there were 9 separate lines that whizzed along. we went over waterfall, rivers, jungle, fields with cows… it was completely unreal! i could be heard over the hills screaming with fear and excitement!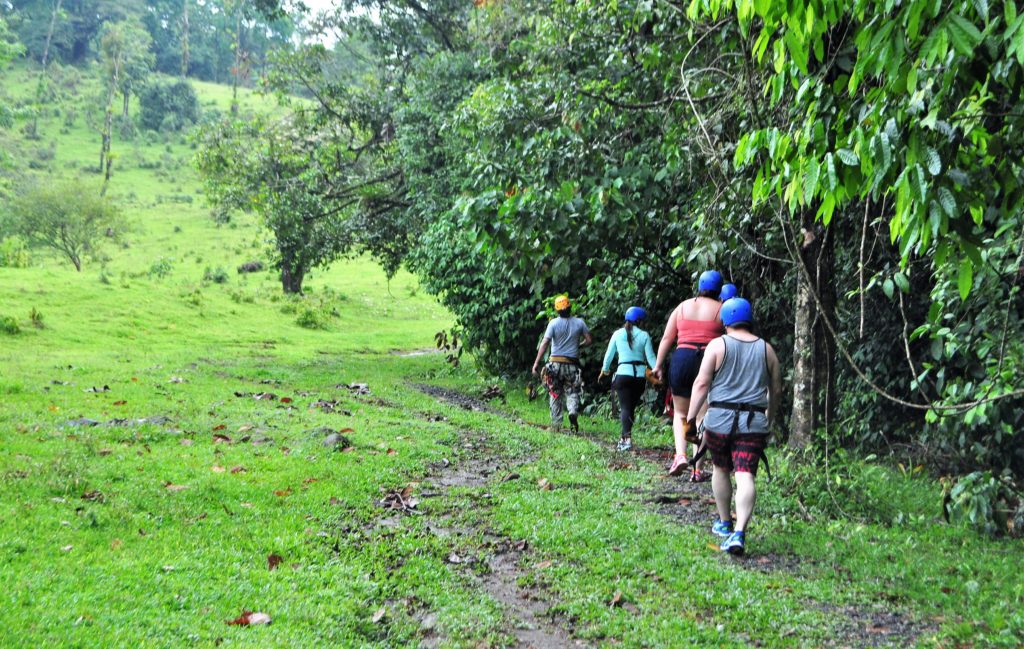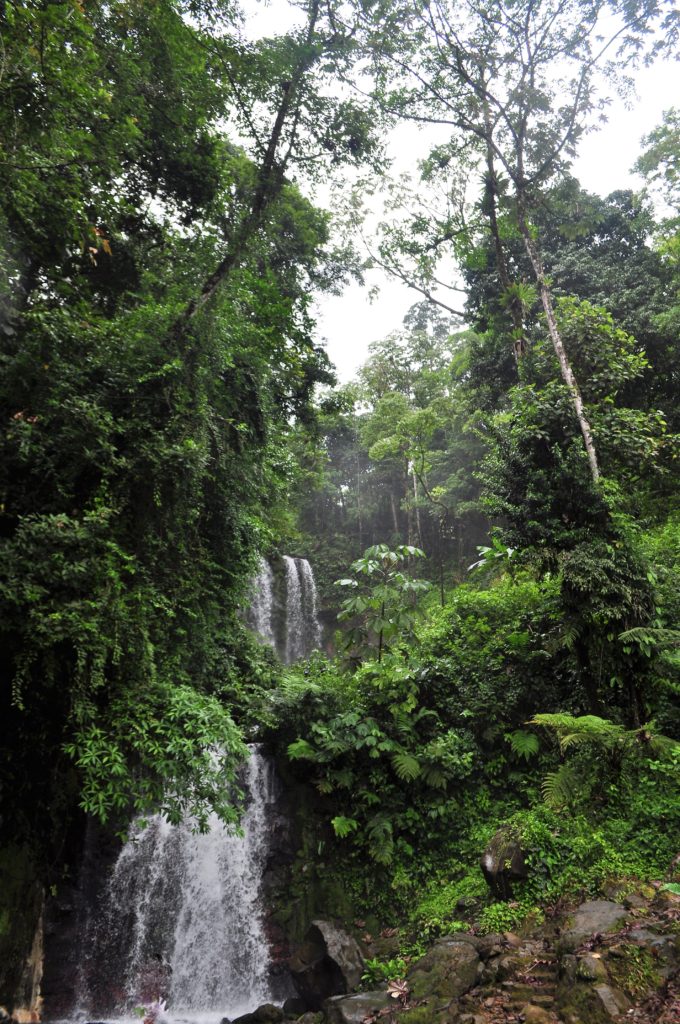 earlier we zipped over this incredible waterfalls. we came here to swim, cool off and relax. we even walked under the falls, which was a loud, slippery but another amazing experience. even the kids ventured under there with us!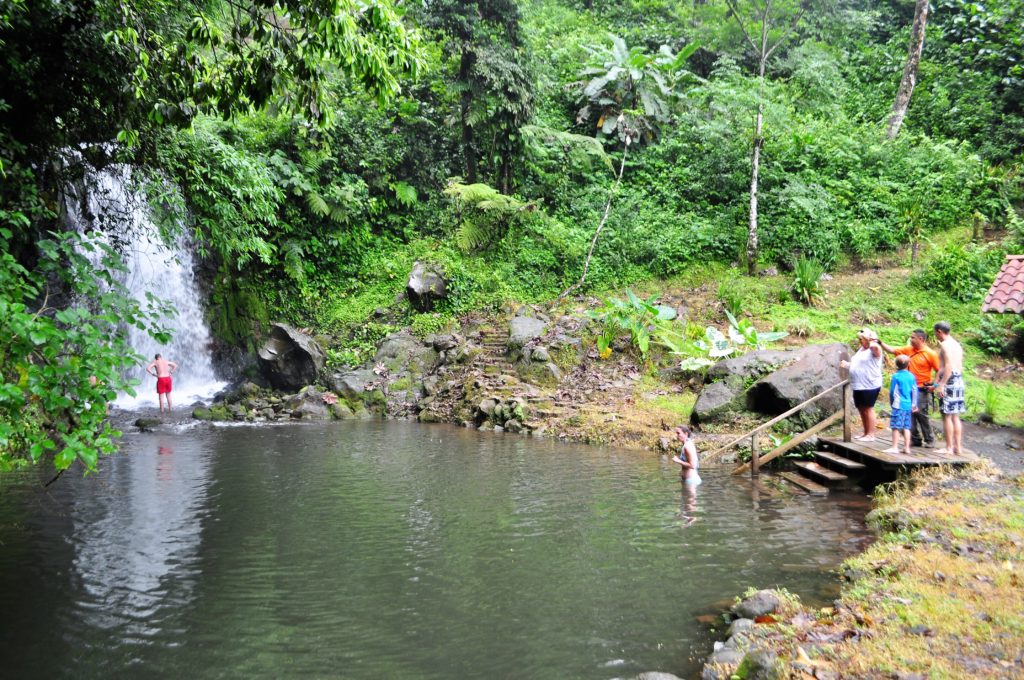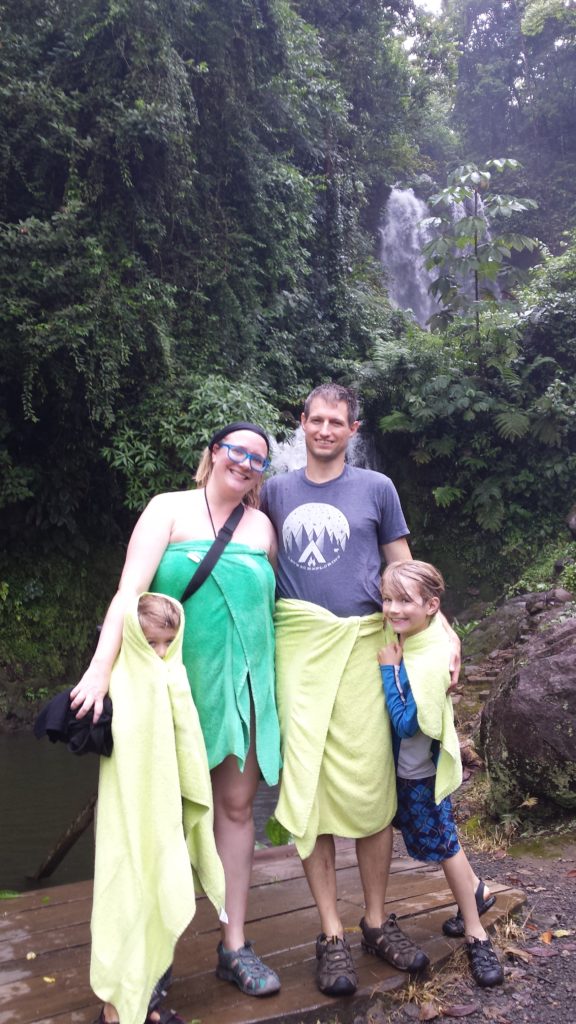 we saw a sloth! and it moved! and it was much faster than we imagined! it was pretty high up in the tree, so getting a reasonable picture was impossible, but i took the one below for proof.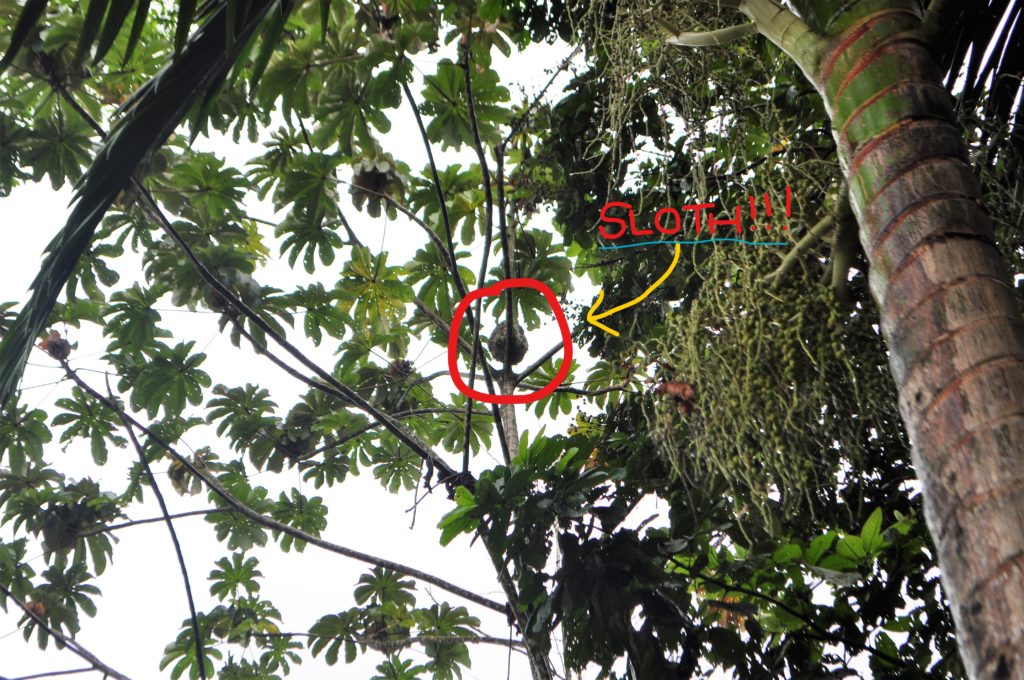 below DH and lion can be seen relaxing in the volcanic hot spring. the water was very hot, but after ziplining it felt really good.
after our long, adventurous day we had quiet ride back to the resort. quiet as in people slept, but the bumps were loud. they call the bumpy roads a costa rican massage! during our drive we saw lots of new infrastructure being built, things like more windmills and many improvements to the roads. the northern part of the country, where we were, is not as developed or touristy.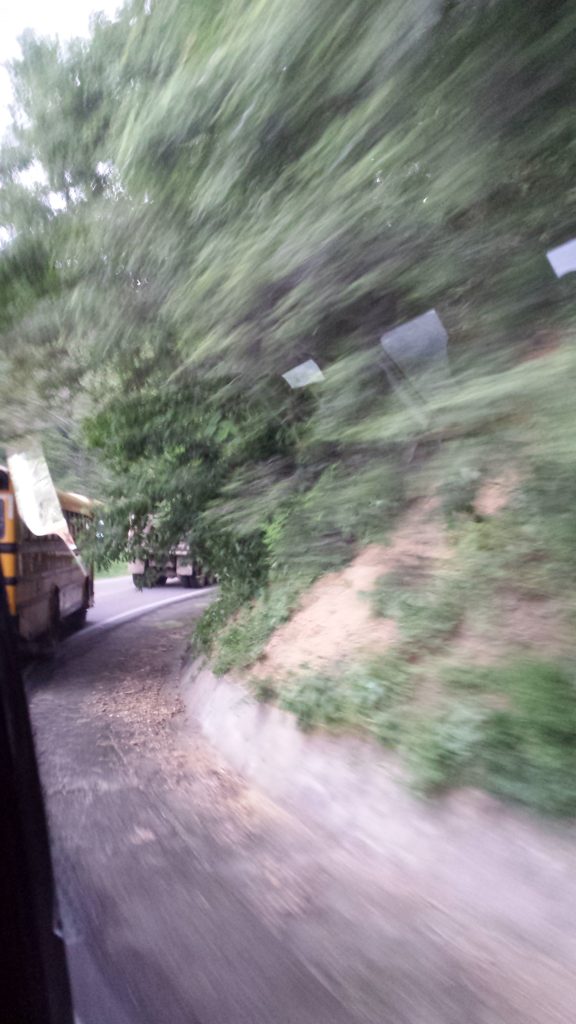 thanks andre & melanie and eric & kristy for spending the day with us and filling it with all your newly-wed love! our new big nickle and georgia peach friends… how cute are they?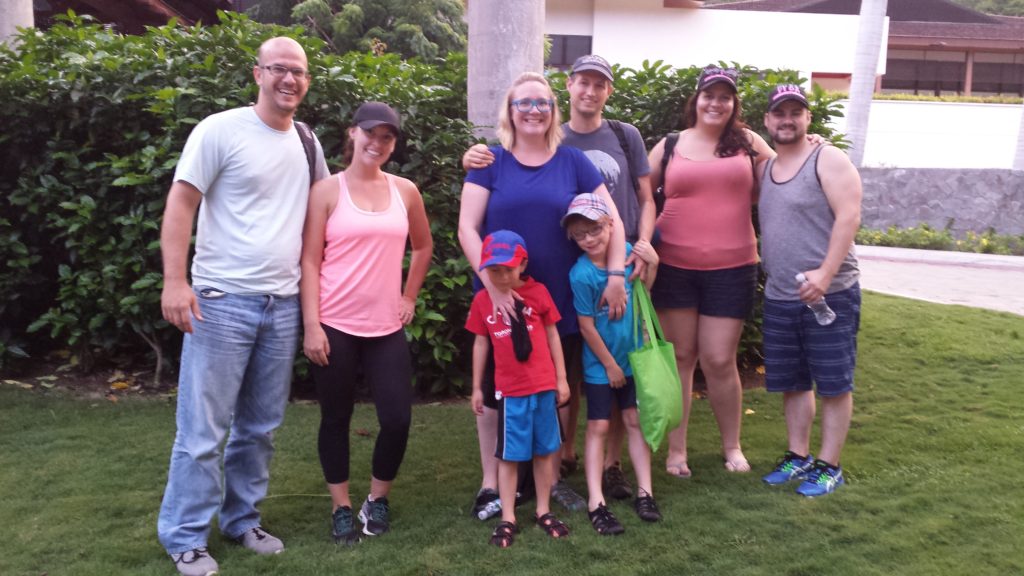 this giant chessboard was a huge hit with our family, night n' day!
the kids loved playing against their dad!
on one day we decided to head up the hills to the nearest town. we were told that a local bus came by the resort. well, something got lost in the conversation between DH and a hotel employee, and the four of ended up running to try to catch the bus at the main gate of the resort. unfortunately the main gate was about a kilometer from the actual hotel, so we decided to run in the hopes to catch the bus we had missed t the hotel.
even though it was nine in the morning, it was already super hot n' humid.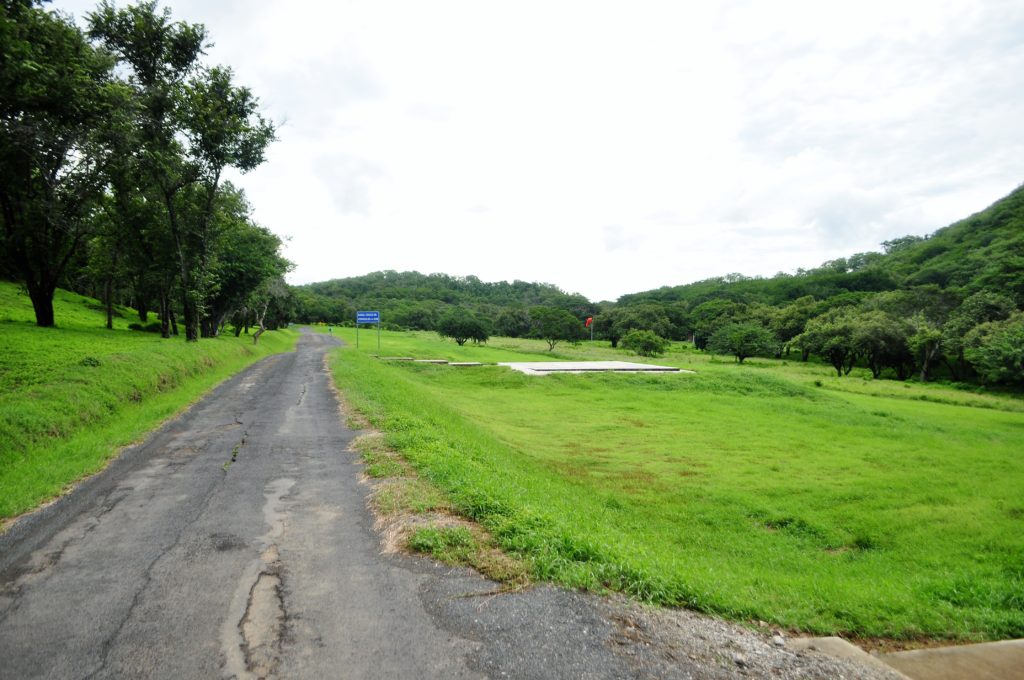 we ran and ran down this tiny road… that wee speck just passed the blue sign in the photo is DH, who ran ahead in the hopes to hold the bus for us. but, we still missed it. we walked back to the hotel, very disappointed and sweaty.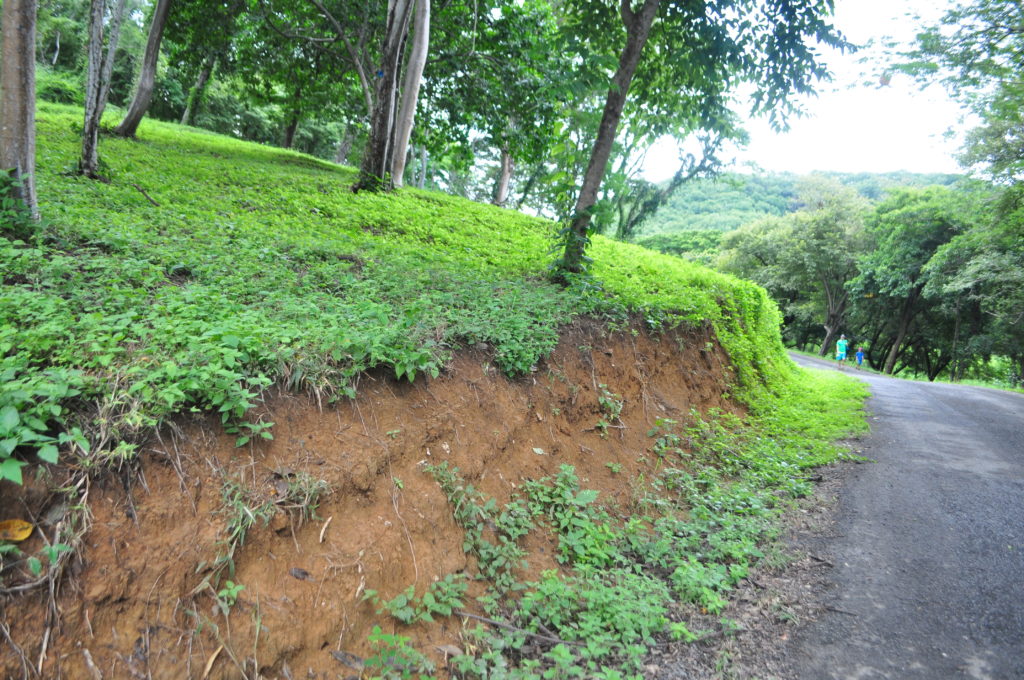 after some discussion and problem solving we decided to splurge and took a taxi into town.
the road was windy and bumpy, but i was a lovely way to see the country. our driver was chatty, speaking english well telling us all sorts of things about his country. we were winding up the hills and mountains up, up, up.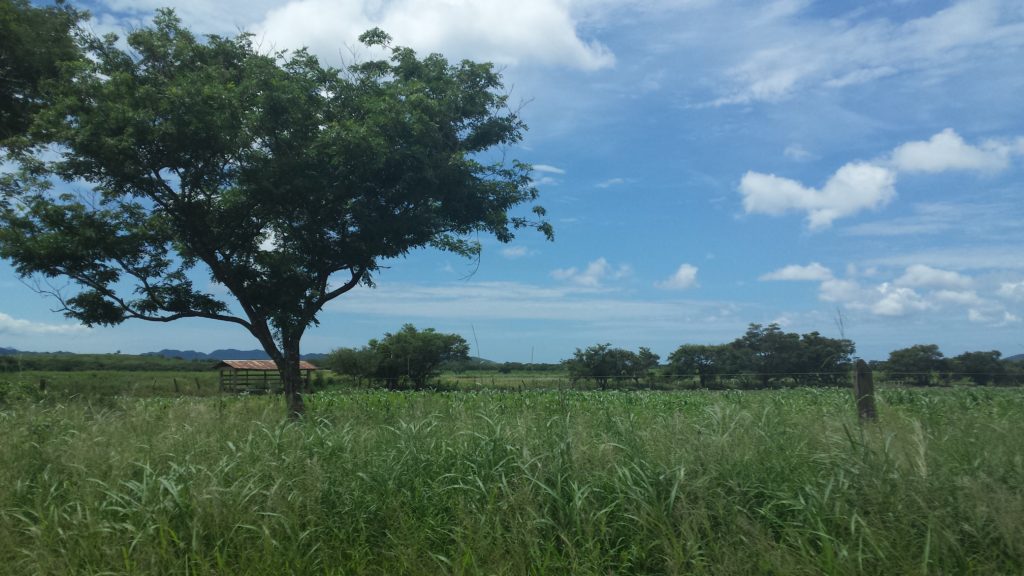 look at that view!
takes your breath away, doesn't it?
one of the first things we discovered while in town was a skate park! how cool?!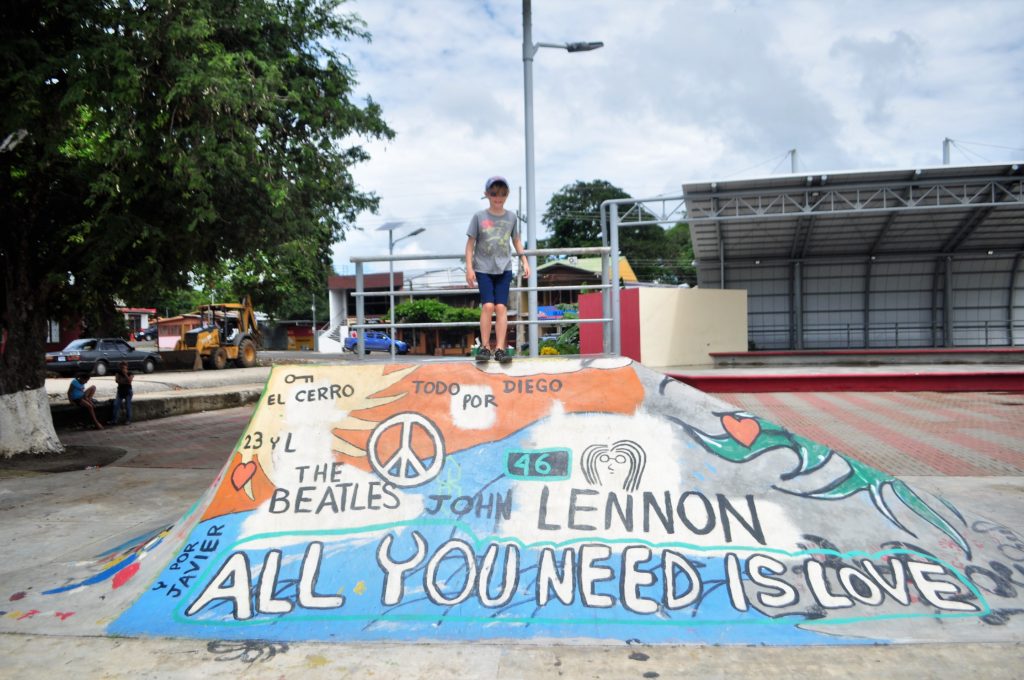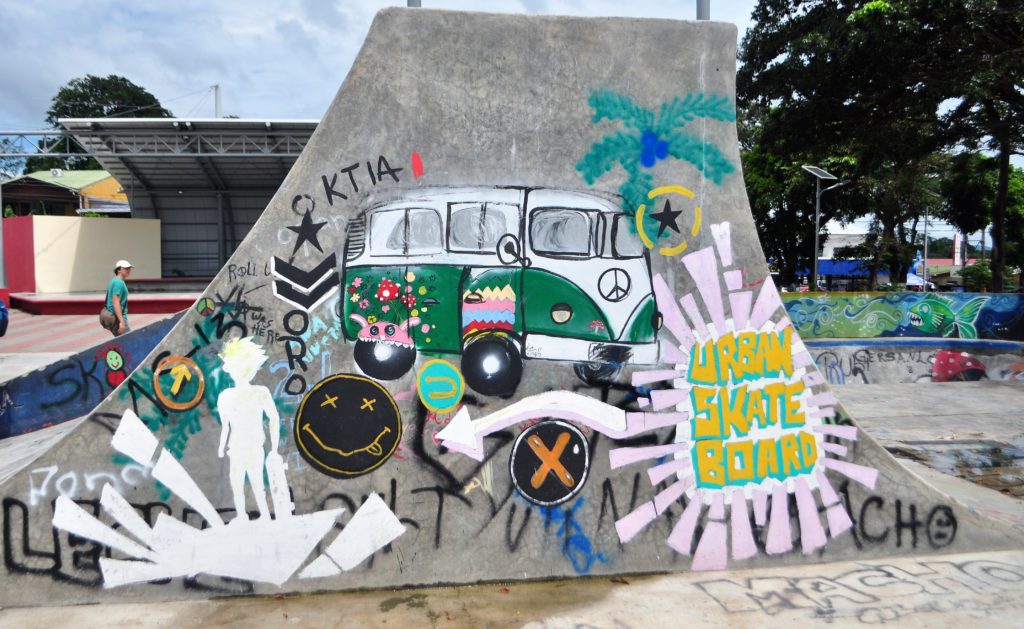 the town was small. we were there to find souvenirs, which we didn't find. but, we did buy some local coffee from the grocery store, which i have been savoring here at home.
we found the kids these fun safari-style hats that said costa rica on them!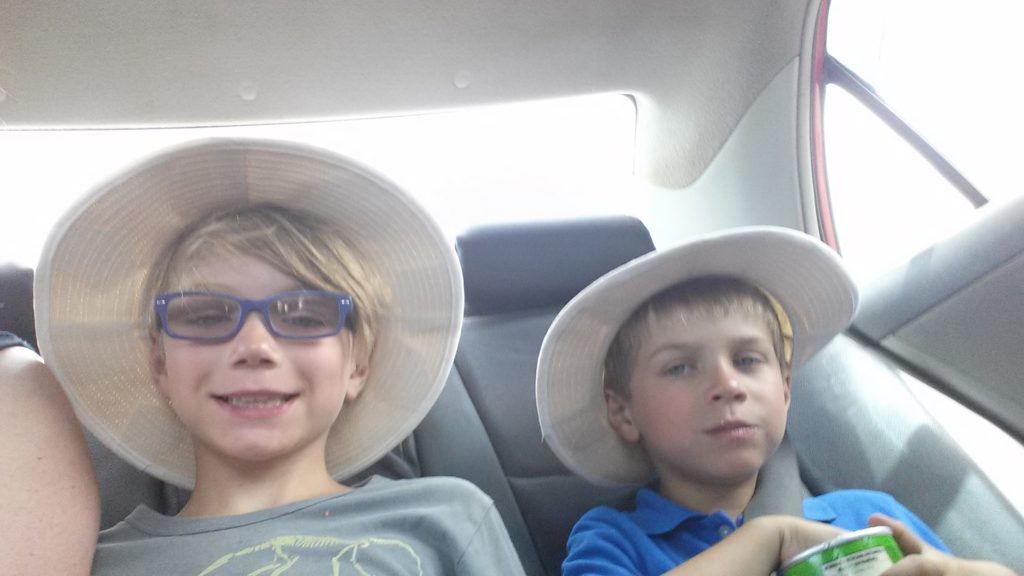 back at the hotel we decided to have japanese for dinner.
we called it our family date night. first we went to the special lounge in teh main building that only privileged customers were allowed into. we're still not quite clear how we managed to get those perks, but we did and we enjoyed them. the bartenders were hilarious showing all sorts of tricks to the kids and making fancy drinks for them.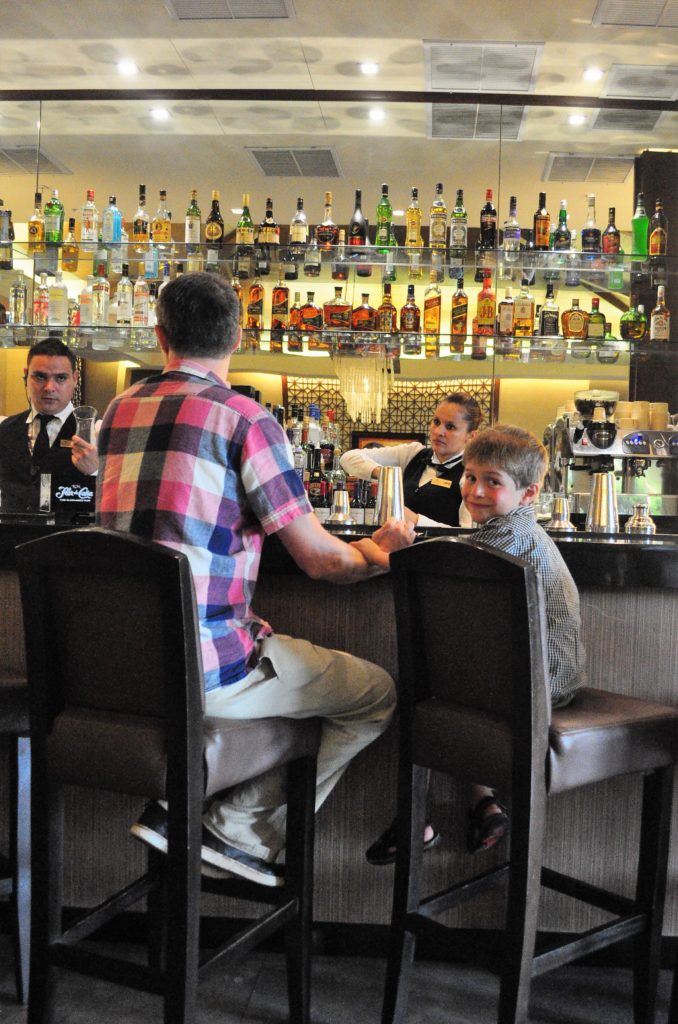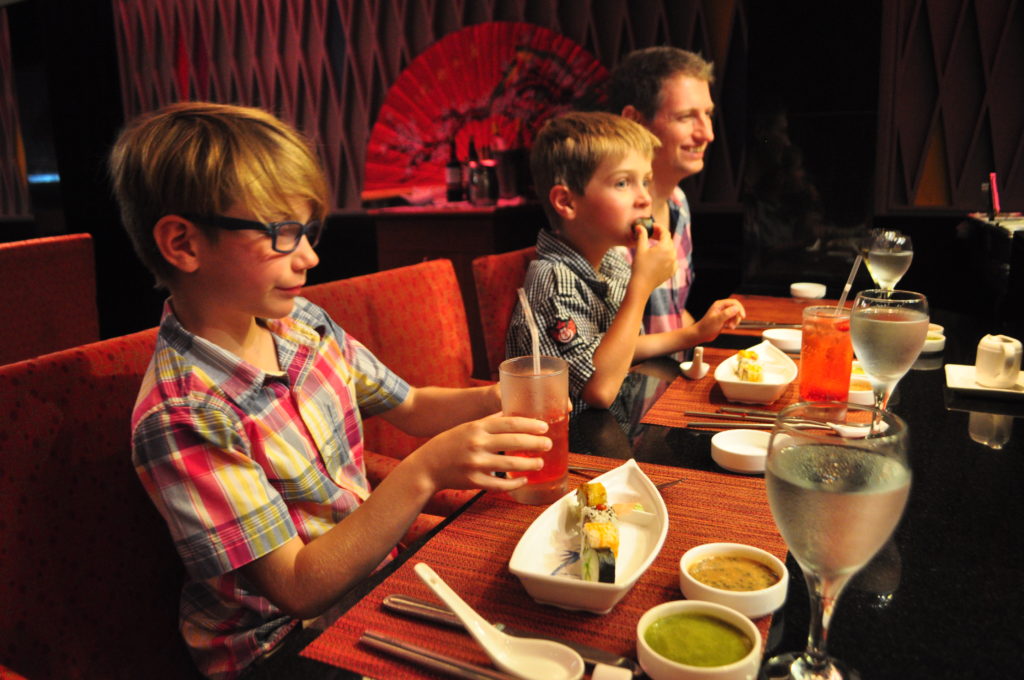 the chef below was learning the fancy tricks of the teppanyaki style of japanese cooking. it was pretty fun!
oh and the sky.
always beautiful.
always different.
always full of surprises!
time to go.
after of week of relaxation, good food, swimming, sun and epic thunderstorms we were ready to say good-bye to the lovely people of costa rica and head home. we all missed our kitty-cats, our own beds and the cool breezes of october in ontario!
HELLO TORONTO!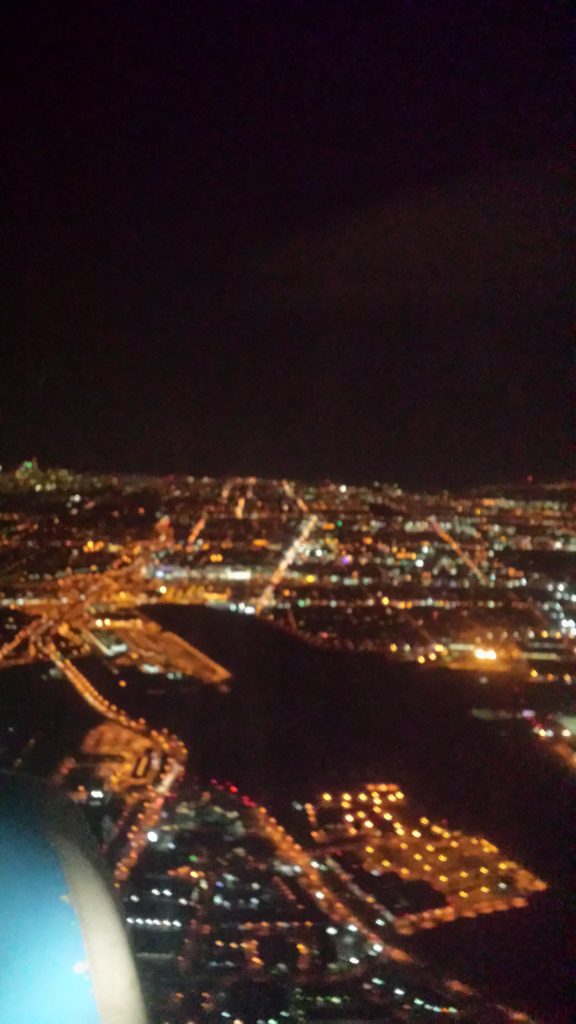 if you have ever considered going to costa rica, GO!
so much to see and do. a very beautiful country with lovely people.