---
today is the first monday of summer vacations at home. the boys and i have a few errands to run. we need to go to a few farm markets to buy fresh strawberries and other locally grown yummy produce. we need to buy new waterbottles (again) as lion keeps losing his! the kids both go to camp next week and they'll need them then. i'm not sure how to get my lion to be more careful of his belongings, as his brother is so meticulous with his things. clearly it's a personality thing and not a mothering thing!
anyhow, to day i want to share the best summer salad recipe out there… WITH WATERMELON!!!!
AWESOME!!!
summer is here and it's the season for enjoying all kinds of fresh, juicy and yummy salads. we always have a salad of sorts with our dinners, whether it be a big green leafy salad, a warm quinoa or a filling bean mix. there is a salad for everyone's tastes in this world!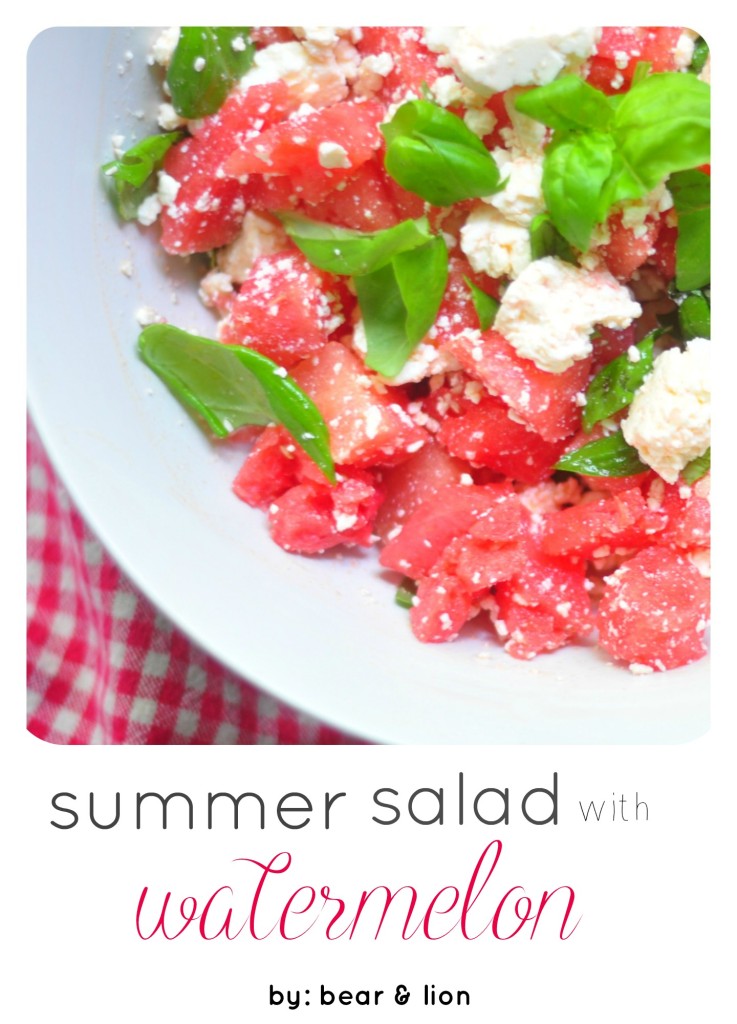 i've seen lots of pictures for watermelon salads so i decided to come up with my own recipe with what i had in my cupboards. and, holy moly was it ever good! especially since we devoured it on a hot n' muggy summers evening! it's quick to make and perfect as a side on a busy or super hot evening.
watermelon salad with feta and fresh basil
2015-06-25 07:22:58
Ingredients
1 watermelon
1/2 container of feta
lots of fresh basil leaves
2 tblsp olive oil
Instructions
1. cut up your watermelon into chunks. i tried to leave mine a bit bigger than bite sized because when mixing the finishes salad i thought the pieces would fall apart.
2. i took the feta and crumbled it with my fingers directly onto the watermelon. added fresh basil leaves, ripping them by hand a little too to release the delicious aroma.
3. add olive oil and mix gently.
bear & lion http://bearandlionmama.com/
my boys loved the salad and gobbled up lots of it!
it really is super easy and SO, SO yummy!